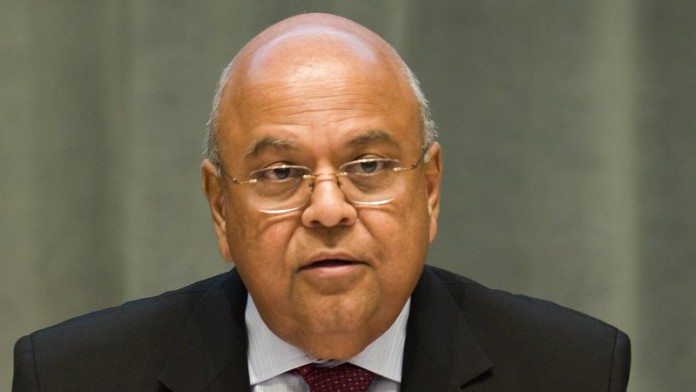 SOUTH Africa's Chamber of Mines said it was "deeply concerned" about the state of public institutions, a matter it promised to raise with the Presidency.
This statement, which demonstrates the chamber is becoming more outspoken in public matters, follows an announcement by South Africa's National Prosecuting Authority (NPA) that it would summons finance minister, Pravin Gordhan on a charge of fraud.
The charge relates to an investigation into allegations that a pension payout to a colleague in the South African Revenue Service (SARS) during Gordhan's first stint as finance minister from 2009 to 2014 did not follow due procedure.
The NPA appears to have put another investigation into Gordhan, regarding the establishment of what it termed a rogue unit within the SARS, on the backburner.
The rand slid 2.9% against the dollar while by mid-morning on Tuesday roughly R50bn had been lost in bank shares listed on the Johannesburg Stock Exchange.
Shaun Abrahams, head of the NPA denied there were any political overtones to the charge, which comes only weeks before Gordhan is due to present mid-term budget.
However, industry advocacy organisations think the charges are the latest twist in a struggle between Gordhan and South African president Jacob Zuma.
Zuma is being investigated for so-called 'state capture' involving the influential Gupta family. There have been allegations that the Guptas were behind the shock firing of finance minister Nhlanhla Nene in December.
Nene was replaced by Desmond van Rooyen, a Zuma ally, until he was in turn replaced within days by Gordhan who took up a second term as finance minister.
The chamber said that while no individual was above the rule of law "… legal means should not be used to opportunistically pursue allegedly nefarious agendas under the guise of justice and due process".
"The Chamber is deeply concerned about the state of public institutions in South Africa and will raise the matter with the Presidency," it said.
Only last week, the Presidency issued a rebuke to gold mining companies, AngloGold Ashanti and Sibanye Gold, for their criticism of Zuma. Sipho Pityana described Zuma as the sponsor-in-chief of corruption in South Africa.
The summons comes only a week after industry met with investors in North American and Europe in an attempt to head off a ratings downgrade.
"It's a grave concern and investors are unlikely to react kindly to this development," Jana van Deventer, an analyst at ETM Analytics told Bloomberg News. "It's a reminder to investors of the political instability that's been playing out in South Africa, especially related to National Treasury," he said.
Support, however, poured in for Gordhan.
Business Unit South Africa said it had confidence in Gordhan "… and the work he has been doing with business to avert a ratings downgrade".
The South African Communist Party described the summons as "a pretext" to remove Gordhan from office and weaken the National Treasury's fight against corruption and corporate capture.
The Helen Suzman Foundation cited comments by deputy president Cyril Ramaphosa earlier this week who said that nothing must be done to create problems in state institutions. "We agree with him," the foundation said.