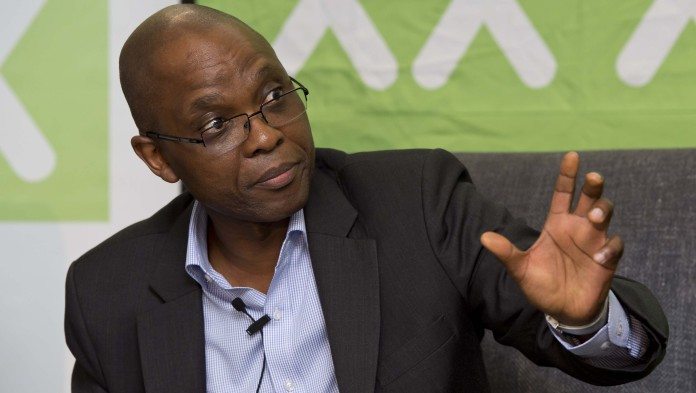 CHAMBER of Mines president, Mxolisi Mgojo, sought to reclaim the organisation's moral high ground today telling delegates at the Joburg Indaba mining conference that it was committed to engagement in resolving the mining sector's impasse with government.
"As the Chamber of Mines, we have drawn a fine line in the sand regarding unethical leadership, bad governance and state capture," said Mgojo, referring to two legal processes the Chamber has in the High Court. "The Chamber remains committed to find a workable solution.
"Zweli Mkhize (ANC treasurer-general) stated earlier this week we were in dialogue with the ANC. We need to continue that because we need to be collectively engaged for better outcomes. Only by engaging and bargaining hard so there isn't a winner takes all can we find solutions in a rational manner," he said.
Mgojo's speech could be interpreted as damage limitation after the Chamber decided not to attend the official curtain-raiser at the Joburg Indaba because mines minister Mosebenzi Zwane was delivering a speech. Notable absentees at the Joburg Indaba's Gala dinner event on October 3 were Chamber CEO, Roger Baxter, and AngloGold Ashanti chairman Sipho Pityana who is also the leader of SaveSA, a vocal and proactive civil organisation campaigning for leadership change in the ANC.
Baxter was unrepentant saying that the Chamber was committed to legal ends in order to defeat a redraft of the Mining Charter which it said had been written without much consultation with the mining sector.
Said the Chamber in a separate statement e-mailed to Miningmx: "Roger Baxter does not speak in his own capacity. He is mandated by the office bearers, who are mandated by council. Please don't confuse a difference in style with a difference in resolve".
"We can't reach a solution without eyeballing one another; we need to wrestle; it cannot be top-down," said Mgojo. Mgojo is also the CEO of Exxaro Resources.