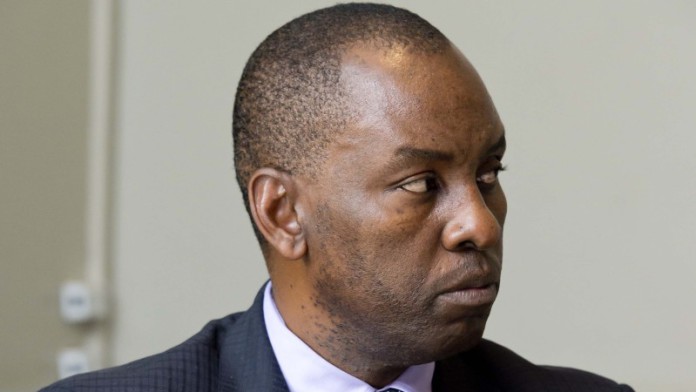 EMBOLDENED by South African president Jacob Zuma's decision to retain him in cabinet,  mines minister, Mosebenzi Zwane, kicked back against attempts to "… try him by public opinion …", and said he had saved thousands of jobs in the country's mining sector.
His comments come on a day in which the Chamber of Mines lodged its notice of motion and founding affidavit for the judicial review and setting aside of the Mining Charter redraft, gazetted in June. The Chamber's application is to be heard before a full bench of High Court judges on December 13 and 14.
The Department of Mineral Resources (DMR) issued a press statement today in which Zwane was described as coming out "with guns blazing". This was in response to allegations of his involvement in state capture which had been levelled against Zwane in a sitting of the Committee on Mineral Resources in parliament today.
"So far, I have been subjected to trial by public opinion by members of the opposition," said Zwane. "It is time-wasting to have members of the opposition, especially DA members using this … committee … to wage personal battles against me and diverting our attention away from important issues of growing and transforming the mining sector," he said.
Zuma unveiled his second cabinet reshuffle of the year on October 17 in which he replaced the energy minister with ally David Mahlobo and expelled higher education minister, Blade Nzimande. Zwane retained his position, however, despite the number of legal cases pending against iterations of the Mining Charter.
Critics of the latest version of the Charter say new provisions unseen previously by the mining industry appear to cater for certain interests and provide special clauses for preferential payment of dividends to black, Indian and Coloured empowerment partners. The Charter also sets down goals the industry views as impractical.
Zwane said he was available to deal with "any state agency which may be given the responsibility of dealing with state capture allegations" in reference to a proposed Commission of Inquiry aimed at investigating the crisis. The heart of the state capture allegations is the Gupta family with whom Zwane has personal and business ties.
Zwane said he was unable to respond to questions regarding the outcome of the court cases against the Mining Charter including the application for the judicial review by the Chamber of Mines. "You cannot treat me as if I have been convicted by any court of law," said Zwane in response to a question by the committee.
Criticised for his globe-trotting exploits in which he earlier this year attended a conference in Nigeria whilst ignoring a South African conference considered to be important only weeks earlier, Zwane said his international visits had economic effects including job creation.
"I travel to various parts of the world to meet with a number of people to attract investment in South Africa. Just this past weekend, I was travelling abroad on an important mission of exploring how we can achieve beneficiation in the diamond industry and create jobs," he said.
"The story that has not been told by anyone thus far is that a number of these travels have resulted in us saving thousands of jobs in the mining sector and members of the opposition must desist from personal vendettas and be constructive in their engagement with me as a member of the executive.