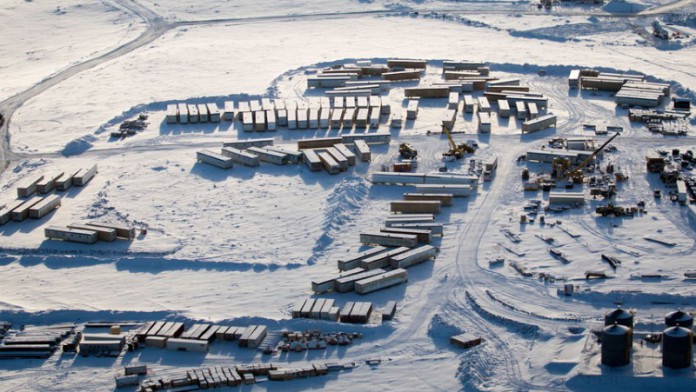 ANGLO American is poised to turn in a solid production year announcing today year-to-date copper equivalent production across all its operations some 8% higher with only three months of the 2017 financial year left to run.
The advances are attributable to significant improvements at Kumba Iron Ore, the Johannesburg-listed firm in which Anglo has a 70% stake, and its diamond operations held in the 85%-owned De Beers.
"We have delivered another strong production performance across our business," said Mark Cutifani, CEO of Anglo who was commenting on the third quarter numbers. He picked out the North West Territories diamond mine, Gahcho Kué, and Minas-Rio, an iron ore mine in Brazil, as noteworthy contributors during the three-month period.
For the year, however, the major contributors will be De Beers which adjusted diamond production upwards to 33 million carats versus previous full-year guidance of between 31 million to 33 million carats. Diamond production from Canada was five-fold higher in the third quarter at some 1.1 million carats owing to Gahcho Kué's ramp-up. The mine reached its nameplate capacity in the second quarter of Anglo's financial year.
Kumba Iron Ore is set to produce between 42 million to 44 million tonnes (Mt) of the mineral compared to previous guidance of 41Mt to 43Mt.
At the other operations in the Anglo fold, coal production is likely to remain flat year-on-year despite a 100-day stoppage in the third quarter following a fatality at at Goedehoop on 3 August. Some 400,000 tonnes of production was subsequently foregone. Eskom production was down 15% in the quarter to 6.8Mt.
Copper production would come in at the low end of previous guidance at some 570,000 tonnes while nickel production was expected to be flat year-on-year. Manganese production would also be unchanged.
The only major significant reduction in production was at Anglo American Platinum, the Johannesburg-listed firm in which Anglo has a 75% stake. Its joint venture investment, Bokoni Platinum Mines, put operations on care and maintenance as the operation struggled to make a profit in the low price environment.
There was also an interruption at Mototolo, a joint venture with Glencore, following seepage on the tailing dam wall. A decision was made to stop processing of ore through the concentrator plant while the dam wall was repaired, expected to be complete in the fourth quarter. Mototolo will continue to mine and stockpile ore for future treatment, but some 45,000 ounces of platinum would be affected.
Metal-in-concentrate production for the 2017 financial year has been lowered to 2.3 to 2.35 million ounces compared to previous guidance of 235 to 2.4 million oz as a result of the mothballing of Bokoni. Third party supply from Maseve, a mine owned by Platinum Group Metals which was also mothballed, would contribute towards lower platinum matte supply.
For the third quarter, metal in concentrate platinum production was flat quarter-on-quarter at 621,400 oz. "In platinum, we have taken necessary steps to remove unprofitable ounces from production as we focus on value over volume," said Cutifani.