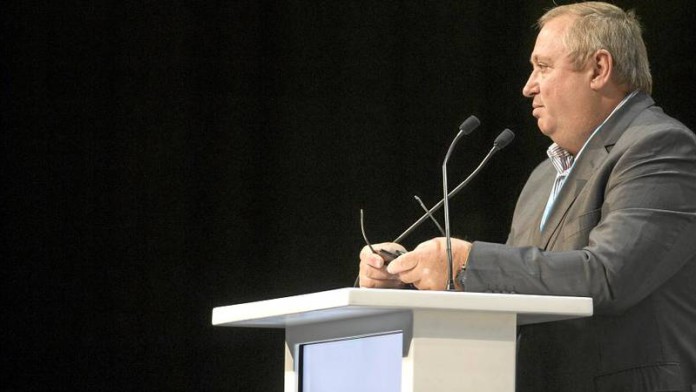 SIBANYE-Stillwater CEO, Neal Froneman, said the group had moved into a phase a growth even though the rest of the market was focused solely on providing capital returns.
Froneman said it was important for Sibanye-Stillwater to have established an international beachhead in the $2.2bn takeover of Stillwater Mining earlier this year and that this would stand the company in good stead as it sought to shake free of the 'South African discount'.
"When everyone stopped paying dividends because they were deleveraging, we were paying dividends," he said in an interview. "It then became common wisdom that everyone was working towards paying dividends. We've now moved into a new phase. The market is not quite there yet, but that [phase] is growth," he said.
Just over 10 months ago, on December 9, Sibanye Gold (as the company was then called) announced the cash offer for Stillwater Mining. It was a transaction that made Sibanye the world's third largest palladium/platinum producer and the fourth largest 4E PGM producer. The rights offer that was issued for the transaction was the largest South Africa had ever seen for a part payment.
Froneman said, however, that it was important for Sibanye to have done this transaction if it were to remain a 'South African mining champion', a sobriquet picked up for its willingness to buy assets other companies struggle to operate profitably, and therefore preserve otherwise vulnerable jobs.
"What is clear to me is that we've established ourselves as a South African champion and we could do more of that, and we will do more of it, in due course," he said.
"But if we really want to be a real South African champion, we have to be globally competitive on the international arena. If the majority of your assets are in South Africa, you will always trade at a discount because of the obvious political issues at the moment. Hopefully that changes one day, but it does mean that our focus for growth is going to be international so that we can compete on an equal basis with internationally listed companies," he said.
"That doesn't mean that we're leaving South Africa, it doesn't mean that at all, and in fact there are still some things to be done here (in South Africa). But what we can't do is allocate capital where there are long-term paybacks and we're not sure of the cost of doing business," he said. 
Goldman Sachs said in a report today that the world's mining companies were not doing enough to discover new mineral resources because the majority of capital allocation was being put towards shareholder returns.
Exploration spend as a proportion of metals market revenue was at its lowest level since 1990, said the bank. In fact, absolute spend in 2016 is at 2005 levels of about $8bn. "Exploration success is the genesis of the mining industry – assets can't be mined until they are found – and thus the underspend on new project discovery may be sowing the seeds for future production challenges," it said.
Goldman Sachs has forecast a 40% uplift in cash flow from mining companies that falls under its resarch coverage. Of this uplift – about $20bn – some 53 cents out of every dollar  will be cash returns to shareholders.
"The allocation of money to capital returns has been more than double the amount of incremental cashflow we see being allocated to capex," said Goldman Sachs. "With miners still appearing to be focused on a period of returning excess capital to the market, we do not believe that we will see any significant new industry-wide mine development in coming years," it said.
A more comprehensive account of the interview with Neal Froneman will be published in Finweek this week.