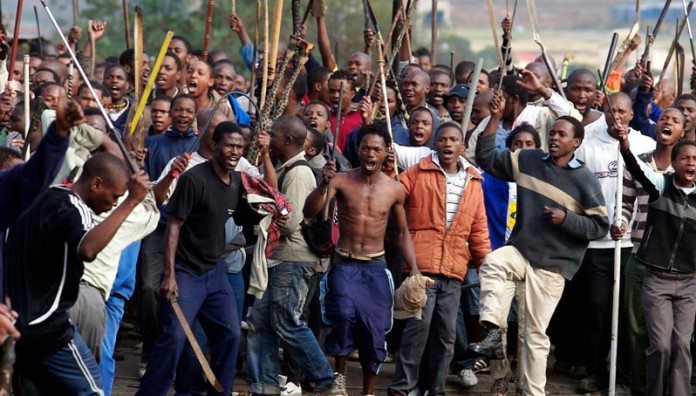 THE construction of Pan African Resources' (Pan African's) R1.7bn Elikhulu surface gold project is being put at risk by a "criminal grouping" which has wrought disruption at the premises of the project in defiance of an interdict raised by the company on October 20.
"The actions of this grouping, which undermines the ethical and transparent process followed thus far, demonstrates self-interest at the expense of the community at large and other stakeholders in the project," said Cobus Loots, CEO of Pan African.
The group, which is operating under the guise of a civil organisation, is thought to be seeking tenders from the project which Pan African said had the potential to raise its annual gold production numbers by 25% or some 50,000 ounces/year. Pan African said in a statement that the group had blockaded streets and intimidated employees.
The Elikhulu project is adjacent to Evander Gold Mines (EGM) in Mpumalanga province. EGM is one of the firm's flagship operations, along with Barberton Mines. Elikhulu seeks to 're-mine' dump material deposited over the years by mining at EGM.
Elikhulu could potentially treat slimes at a processing capacity of up to 12 million tonnes a year and at a headgrade of 0.28g/t from the Winkelhaak, Leslie and Kinross tailings storage facilities in Mpumalanga province.
"On 20 October 2017, Pan African Resources and Evander Gold Mining obtained a court interdict against the grouping, which, inter alia, prohibits this grouping from interfering in construction activities on site and from intimidating and threatening Evander employees and contractors," the company said in a statement.
"Despite the court interdict, this grouping has continued with illegal activities, including blockading private roads and threats of violence and intimidation against Evander employees and contractors. These actions are endangering human lives and property and may result in the Elikhulu project being adversely impacted," it said.
Elikhulu is expected to create some 700 jobs during its construction phase and 250 permanent jobs on completion. "To date, the project has created business opportunities for almost 40 local and community businesses, with this number set to rise in the near future," the company said in its statement.
Pan African has had its fair share of stoppages lately. There as a 55-day stoppage at Shaft 7 at EGM to accommodate a refurbishment while at Barberton Mines there were community disruptions, safety-related stoppages and flexibility issues at the Fairview section.