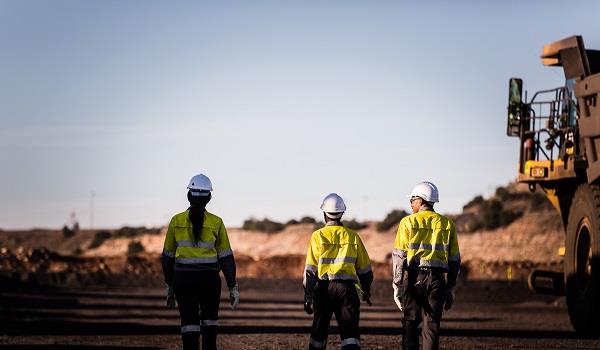 SOUTH32 notched up a fresh sales record at its South African manganese unit where it continued to operate as the market's swing producer, but the news was mixed at the firm's coal operations in the country.
Some 1.07 million tonnes (Mt) of manganese ore was produced at the South African operations amid a strong price for the mineral. This means guidance for the year has been increased 8% than first forecast to just over 2Mt. South32 received a $238m net contribution from its share in Samancor, the joint venture with Anglo American, which holds the manganese assets.
There was also a record production number out of South32's Australian manganese operations where December quarter and half year saleable ore production increased to 893,000 tonnes and 1.7Mt respectively.
Elsewhere in the business the operational picture was solid as suggested during its year-end investor day update in December. Production at Illawarra suffered through a significant part of 2017 following safety related shut-downs at Appin. In the December quarter, however, production at the mine's Appin colliery restarted and it is tracking for 4.5Mt.
There was also record production at Mozal Aluminium in Mozambique whilst the South African aluminium operations were headed for higher half-year production year-on-year notwithstanding an electric arc incident which affected 36 pots in November.
The group also reiterated previous comments regarding the condition of the market. Input costs were on the rise – highlighted as one to worry by CEO, Graham Kerr last year, but margin wise, the company continued to be in a positive net position given the strength of commodity prices during the period.
The firm also reported an increase in working capital from the $284m increase reported for the fourth months to end-October owing to timing differences for receivables against rising commodity prices. This would unwind in the March quarter.
One of South32's few challenges is – apart from using its cash correctly – how to best manage its South African thermal coal division whilst it prepares the unit for standalone operations, probably from about April. In particular, it is WMC – the Mpumalanga province asset – that is causing South32 the most problems.
A long-standing contract with Eskom to supply its Kendal mine from WMC has been described by Mike Fraser, South32's head of Southern Africa operations – as bordering on prejudicial since it struggles to make money from it. South32 said today that were prices to weaken on potential lower demand volumes, WMC could be loss-making.
Roughly 16Mt of WMC's forecast production in the 2018 financial year of some 27.5Mt will be supplied to Eskom. The 11.5Mt balance of coal is exported.
South32 is highly cash generative at current commodity prices and cost levels and has embarked on a dual payout system of dividends and share buy-backs. As of the half-year, the company paid $333m in final dividends for its 2017 financial year and purchased a further 37 million shares in the company for cash of $93m. As of December 31, South32 has bought back 143 million shares for $305m.
Cash as of its 2017 year-end – October 31 – was $1.69bn. It has committed to a buy-back programme totaling $750m having extended the programme by $250m in August. Shares in the group were 1.2% stronger on the Johannesburg Stock Exchange.