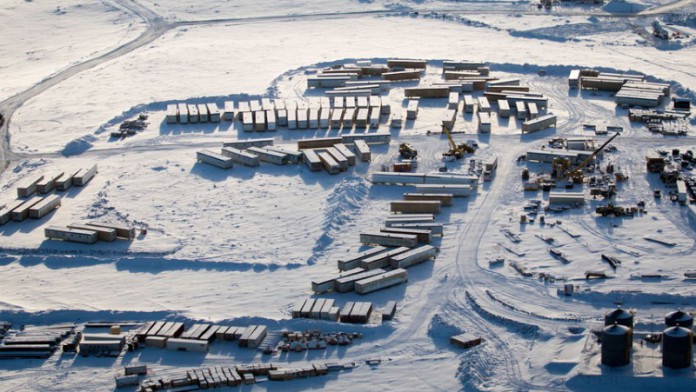 ANGLO American turned in a robust fourth quarter production performance which took full year production on a copper equivalent basis some 5% higher compared to 2016, largely owing to good numbers at Kumba Iron Ore and De Beers, its 85% subsidiary.
Mark Cutifani, CEO of Anglo American, said the year-on-year improvement was despite cutting platinum and metallurgical coal output. "The ramp up of Gahcho Kué and Grosvenor mines made positive contributions to our production profile in 2017, and a strong performance from Sishen resulted in an 8% increase in production from Kumba Iron Ore," he said in a statement.
Gahcho Kué is the De Beers' newly commissioned diamond mine in Canada's Northwest Territories. It reached nameplate production in the second quarter of the financial year. All in all, Canada production doubled to one million carats in the fourth quarter (versus the fourth quarter of Anglo's 2016 financial year) as a result of Gahcho Kué.
On year-on-year basis, diamonds showed the largest improvement which at 33.5 million carats was an increase of 22%. Iron ore production from South Africa came in at 45 million tonnes (Mt) whilst production from Minas Rio, Anglo's Brazilian iron ore producer, was 16.8Mt, a 4% lift year-on-year.
The only major notable decline in production in 2017 was in thermal coal exports which were 4% lower year-on-year at some 26.5Mt. Commenting on the fourth quarter numbers, which may be symptomatic of the production performance for the year, Anglo said there were "… ongoing operational challenges" at Khwezela while the Mafube mine was "… transitioning into a new pit".
Anglo American is selling its domestic thermal coal mines – New Vaal, New Denmark and Kriel – to the black-controlled Seriti Resources consortium for about R2.3bn. The transaction, which is waiting on Eskom's approval for the transfer of the coal sales agreement from Anglo to Seriti, was imminent.
"We have delivered another strong operating performance in 2017," said Cutifani. "The 5% increase for the full year reflects our ongoing focus on productivity and was achieved despite the removal of unprofitable and higher cost platinum and metallurgical coal volumes consistent with our disciplined, value-led approach to production," he said.
MARKETS
Despite much improved production from De Beers, the average realised price for its diamonds was 13% lower at $162/carat in 2017. This was partly a function of the ramp-up of Gahcho Kué and an increase in production from Orapa. It was also informed by the recovery of the India market following its demonetization programme in 2016.
"The lower value mix was partially offset by a higher average rough price index, up 3% compared to 2016," said De Beers.
Across the commodities Anglo produces, the only other year-on-year price decline was for platinum which was 5% weaker. In contrast, Anglo's 70% owned listed subsidiary, Anglo American Platinum (Amplats) received significantly improved prices for its sister metals – rhodium and palladium – which were 61% ($1094/oz) and 44% ($876/oz) higher respectively. The basket price for platinum group metals that Amplats received was 12% higher at $1,966/oz.
There was a 29% increase in the copper price year-on-year whilst lusty improvements were also registered in metallurgical coal of between 57% and 65% depending on grade. The thermal coal price from mines in South Africa was 27% higher at $76/t.