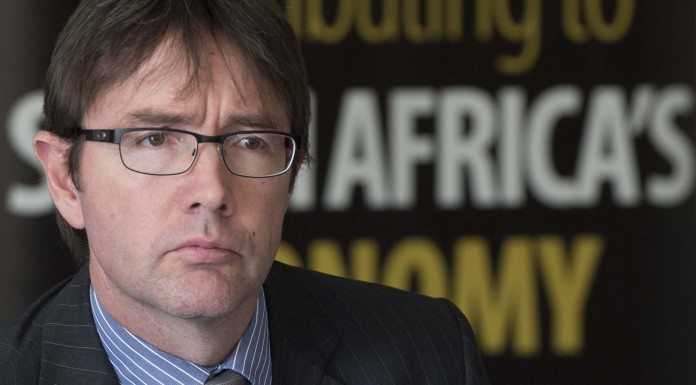 A LITTLE over an hour before mines minister, Mosebenzi Zwane, was expected to make his keynote address at the Mining Indaba, a conference in Cape Town, Chamber of Mines (CoM) CEO, Roger Baxter, laid into the minister's department [of Mineral Resources] for forging ahead with the controversial Mining Charter last year.
"Zwane unilaterally proposed a revised Mining Charter last year that was probably developed in some back room somewhere. This led to what was probably the lowest time in living memory for the mining industry in terms of regulation," he said during an early morning press briefing at the Indaba.
The CoM made it itself considerably more unpopular with the DMR after it took its objection of the third iteration of the Mining Charter to court, arguing it would throttle investment and depress investment in the sector
Despite making attempts to bilaterally negotiate a legislative framework that would serve the interests of both government and industry, Baxter said negotiations were ultimately abandoned in favour of court action after it became apparent that the DMR was unwilling to provide any wiggle room.
"We realised that there was no chance for reasonable negotiation, and we believe that the negotiation was being conducted in bad faith on the ministers' side. The decision to go to court was the last resort, because we needed to give negotiations a chance," said Baxter.
While Baxter said the chamber was no longer in talks with the DMR, it was in discussions with "certain ANC leaders" over the proposed legislation. "We're not engaging with this minister. We've lost confidence in his ability to lead the department," he said.
Baxter is expected to update the media on the chamber's legal challenge of the Mining Charter on Tuesday morning.
The CoM does, however, see a silver lining in 2018 in the form of a political leadership shift and possible renewed space for an improved relationship between the industry and the DMR.
Said Baxter: "For the first time in number years, it's possible to look forward with reasonable degree of hope rather than foreboding, as there's a positive wind of change blowing through country and industry.
"Initial signals from the ruling party give hope, but must be followed up by action. There are still complex political dynamics at play and we must exhibit degree of patience, but the green shoots are there and we're keen to work with government," he said.
Despite lamentations of poor governance, political leadership, and regulatory uncertainty, mining's economic contribution remained considerable in 2017.
According to the figures provided by the Chamber on Monday, mining's contribution to South Africa's gross domestic product in 2017 improved by 3.7% year-on-year to R312bn. This brought its contribution to the overall GDP to 6.8%.
Total primary mineral sales for the year amounted to R424bn, while mining's direct contribution to the country's overall fixed investment came in at R93.4bn.