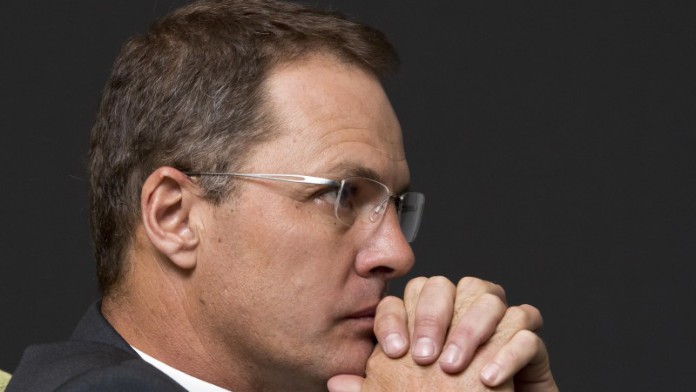 DRDGOLD CEO, Niël Pretorius, will hope to persuade the firm's shareholders that the company can generate enough cash to significantly offset the R2bn capital required to process gold-bearing tailings purchased from Sibanye-Stillwater.
The two companies last year agreed to a swap proposal in which Sibanye-Stillwater will allow DRDGold to process West Rand tailings in return for 38% of its shares. The transaction requires shareholder support. A circular to DRDGold shareholders is due to be published before the month-end, said Pretorius. Pro forma numbers demonstrating the financial impact of the transaction are set for publication tomorrow (February 6).
"To get shareholders across the line, I have to demonstrate negligible dilution of earnings and, secondly: to minimise the execution risk," said Pretorius in an interview on the sidelines in the Mining Indaba conference today.
The first phase of the project is to process some 78 million tonnes (Mt) of gold-bearing tailings which occur at a grade of between 0.4 to 0.5 grams per tonne. "I think the market is nervous about the capital required," said Pretorius. A capital number of R2bn has been put on the Sibanye-Stillwater tailings.
"We need to demonstrate we can offset capital with early cash flow and that will give us 12 months to consider Phase 2 of the project," he said. The initial footprint is the tailings of Dam 4 and Dam 5 of Sibanye-Stillwater's West Rand Tailings Retreatment Project (WRTRP). It excludes the uranium tailings at the firm's nearby Cooke shafts, however.
Sibanye-Stillwater also has an option over 'buying' another 13% of DRDGold shares – enough to give it control – which it might well do by injecting its uranium tailings into the deal. Pretorius said he welcomed the overall investment.
"Neal Froneman [CEO of Sibanye-Stillwater] talks about this being an investment rather than an acquisition, and I think that is the right perspective," said Pretorius. Asked if he would continue to work at the company if Sibanye-Stillwater took control, he said: "I am a fan of how Neal stays on the front foot in terms of expansion, and I'm looking forward to being in a space where DRDGold can feed off that".
Shares in DRDGold are currently trading near 12-month lows which was partly a function of the strengthening of the rand against the dollar following the election of investment-friendly Cyril Ramaphosa as deputy president of the ANC. Pretorius said DRDGold was highly sensitive to gold price levels.
"Before Ramaphosa was elected, we budgeted to not burn cash at R485,000 per kilogram. [The rand gold price is currently at R515,000/kg]. Price-wise, we are probably among the most volatile gold stocks in South Africa. It's who we are," he said.
"But I would rather prefer we have good buying power and a higher dollar price from a long-term planning perspective. That is a much better place to be in. If the oil price goes up, it can really wipe out our margin. So the strong rand means lower inflation. A strong rand and strong dollar price is the best position to be in," he said.
DRDGold said there were no plans to hedge the rand. "We would lose a lot of liquidity if we started to hedge our bets. Our liqiuidty and attraction in the US is that DRDGold provides an option on the gold price," he said.