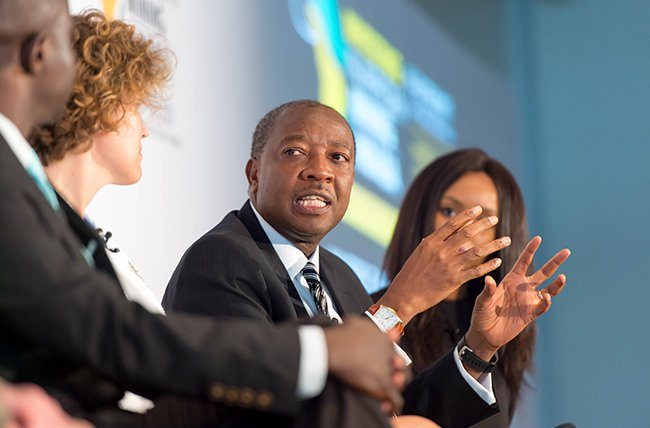 ANGLO American said there was "no danger" of committing the over-exuberance of the previous commodity cycle where it – and its peer group – spent heavily on expansion to the detriment of positive cash flow and dividends to shareholders.
"I am 60 years old and I have been in the mining sector for 40 years," said Norman Mbazima, deputy chairman of Anglo American South Africa in an interview. "I have been through the cycle several times. The last one saw a lack of discipline. But we've all got a knock on the head," he said.
Anglo American sold or closed about 30 separate assets deemed non-core, releasing tens of thousands of people from its payroll. By mid-2017, the group's net debt had been reduced by over 50% to $6.2bn. This followed a slide in commodity prices which left the future of some of the world's most famous mining brands hanging in the balance.
"I see no danger of being over exuberant. We will continue to be disciplined and we need to ensure that shareholders will be provided returns," he added. Mbazima was speaking on the sidelines of the Mining Indaba, a conference being held in Cape Town.
Earlier in the day, Evy Hambro, head of Blackrock's natural resources funds, said investors wanted to see the discipline of the last few years sustained. He warned against 'investor tourists' who would pressurise mining companies to expand instead of sticking to the requirements of core investors.
According to Paul Gait, an analyst at Bernstein, the global mining sector had invested $1 trillion in new projects and expansion in "… the boom period and shareholders are owed a return on that investment".
Said Gait in a report produced in January: "Our coverage companies have seen one of the worst commodity downturns in history, but have come out the other side. The miners look to be in the healthiest position that we have seen for a long time. The underlying dynamic for mining stocks has changed. It is now about our structural call on prices, industry cash generation, and the extent to which that cash flow can be sustained.
"Mining is at a crossroads," he said. "Will there be a fresh wave of the typical boom-bust cycle seen in the industry historically, or will the miners change tack?"
SOUTH AFRICA
Macquarie said the election of Cyril Ramaphosa as president of the ANC could be viewed as a re-rating event for South African mining stocks after years of graft and maladministration under President Jacob Zuma. Mbazima said he had noticed an improvement in sentiment regarding investing in the country.
"There is a kind of hope that there is change here and it's substantial and moving in the right direction in terms of policies. You need to get that confidence," said Mbazima. He disagreed with a conclusion of the Macquarie report, however, that Anglo was deliberately lightening its exposure to South Africa by allocating capital to other parts of the world.
"People always forget the fundamentals of investing. We don't really make a decision on where the thing is, but rather in how attractive it is. We have been talking about our exposure to South Africa for a long time. The country has massive mineral endowment, but we have to make the environment better for investment.
"Right now, there is hope in the air," he said.
ANIL AGARWAL
Speaking in a formal session at the Mining Indaba, Anil Agarwal, executive chairman of Vedanta, said he had been well rewarded by his personal 20% investment in Anglo American which had risen 50% in two years. Analysts have speculated that Agarwal – who invested in Anglo through his family-owned vehicle – has ulterior motives.
Agarwal's investment is actually via a mandatory exchangeable bond with some 19% of the investment in Anglo belonging to the underlying shareholders of those shares. The dividends also go to the underlying shareholders. Agarwal said in his presentation at the Mining Indaba that mining firms ought to invest in growth rather than paying dividends.
Mbazima's view is that Agarwal has been the model shareholder, and has not attempted to foist his views on the company. "We look at him as major sharheolder; before him, it [the largest shareholder] was the PIC [Public Investment Corporation]. We owe these shareholders courtesy and information. He has been excellent in supporting us. We haven't had to change our strategy and we are doing things we wanted to do," he said.