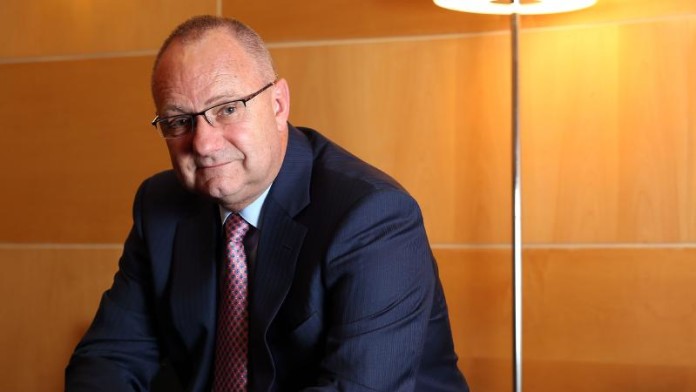 ANGLO American halved debt and paid a handsome second half dividend for its 2017 financial year – its largest in 10 years – in a full-year performance that CEO, Mark Cutifani, acknowledged was the culmination of his work at the UK-listed group.
"We've done what we said we would do. Anglo American is a fundamentally different business: it is more resilient, it is more competitive, it is delivering solid returns. We see a lot more opportunities to improve," he said in a media conference call.
The stand-out feature of the numbers was the free cash flow which, at $4.9bn, represented a 93% increase year-on-year, enough to reduce debt $4bn to $4.5bn or by 47%. Net debt to earnings before interest, tax, depreciation and amortisation (EBITDA) stood at 0.5x as of December 31. Steven Pearce, CFO of Anglo, said the intention was to keep this ratio at no more than 1.1x through the commodity cycle.
In terms of shareholder rewards, full-year earnings per share came in at $2.57 compared to $1.72/share in the 2016 financial year. Owing to the group's improved balance sheet, and amid signs that higher commodity prices are here to stay for the foreseeable future, Anglo paid a 54 cents/share final dividend which was equal to Anglo's stated payout ratio of 40% of second half underlying earnings of $8.8bn. The total dividend was $1.02/share.
Goldman Sachs said Anglo's results, including the dividend, were largely in-line with expectations, but it added that net debt came in $1bn lower than forecast owing to "… lower cash tax (carried forward losses in Australia) and better working capital management". Shares in Anglo American traded 2.4% lower in the first hour of trade on the Johannesburg Stock Exchange.
"We have got 40% fewer assets but we are producing 9% more product. Since 2013, our productivity has improved 80% and we have 26% lower unit costs (year-on-year)," said Cutifani. In terms of contribution to EBITDA, however, the health of the commodity market was clearly a major factor, as it has been for all diversified mining firms.
Improved commodity prices contributed $2.4bn to underlying EBITDA with the firm's bulk minerals (iron ore, manganese and coal) contributing the greatest. The improvement in unit costs and production contributed a further $1.1bn of underlying EBITDA.
Productivity is measured on a per person metric which showed a 28% improvement. "We have got 40% fewer assets but we are producing 9% more product," said Cutifani. Since Anglo's 2013 financial year – which is when Cutifani was appointed CEO of the group, productivity has increased by some 80%.
INFLATION
Pearce said Anglo would continue to address its net debt. "We have tried to strike a balance between cash flow and the balance sheet, but we want to take it further," he said. "It has all happened quite quickly (the reduction in net debt) … In terms of net debt, we expect further reductions if current prices hold. Prices are on average up a bit, so if they do hold, we could better this year," he added.
One of the headwinds facing improved commodity prices is inflation, however. The higher cost of minerals feeds through to consumables such as explosives and steel. There had also been an improvement in host country currencies, especially in South Africa where the rand has firmed against the dollar by 18% since the beginning of 2017.
"Obviously, you've got inflation and currency feeding into these things," said Pearce on the challenge of reducing net debt. "But so far commodity prices outweight the effects of currency and inflation. More than anything this drives us to improve the underlying business," he said.
Said Cutifani: "My experience regarding currencies is that the best thing you can do is control your costs". He also said Anglo would continue to work on productivity as well as improving prodution. The combination of these factors was behind a targeted underlying EBITDA run-rate improvement of between $3bn to $4bn by 2022.
Set against this target was the issue of how Anglo American intended to approach growth. "Growth has been a dirty word in the industry and so it should have been given some of the stupid things people did," he said. "We've got some really significant, low capital cost, quick return payback growth opportunities." These include de-bottlenecking at Moranbah, the metallurgical mine in Australia, and the addition of a ship for De Beers' marine mining.
There was also the $5.6bn Quellaveco copper project in Peru which Anglo is considering syndicating out – introducing partners – to help it manage the capital cost. Cutifani said a decision on how to tackle the project would be made before the close of 2018 with the board set to consider the investment by mid-year. Cutifani alluded to the possibility of adding certain assets to the original project ambit. A feasibility study is currently underway.
The Minas Rio iron ore project in Brazil was also expected to hit its nameplate 26.5 million tonnes/year capacity by 2020 following the grant of another round of operating licenses.
"I think the thing about our industry is that you've got to understand your markets," said Cutifani. "You should be producing to market demand, not over-producing. In our case, we match our production to demand and drive margins to deliver returns. We will keep our eye on all the moving parts to see we make the right decisions in a disciplined framework."
SOUTH AFRICA
Cutifani acknowledged the appointment of Cyril Ramaphosa as South Africa's new president in a similar vein to his rival Ivan Glasenberg, CEO of Glencore, yesterday. Ramaphosa has given several signals that he intends to be pro-business which represents an 180 degree change in approach to his predecessor, Jacob Zuma.
"Ramaphosa has reached out to the mining indsutry and said it is a key industry," said Cutifani. "All the signs are good. The president understands our industry and he sees collaboration. We are pleased that government sees a revival in the industry," he added.