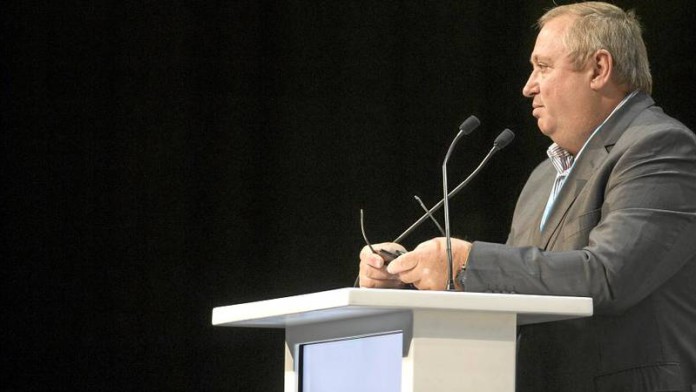 NEAL Froneman warned Ben Magara's Lonmin that failing to deliver on the platinum firm's restructuring plans would see the withdrawal of Sibanye-Stillwater's R5.1bn all share offer, the company of which he is CEO.
"There's a huge onus on [Lonmin] management not to get themselves in a black hole because we cannot ask our shareholders to take on more debt," said Froneman. He was responding to questions about the Lonmin acquisition at the Sibanye-Stillwater's full-year results presentation. "We've told them this, and I'm saying it publicly: they better actually make sure those operations deliver according to their plans".
"They should be net cash positive by the time the transaction ends, so let's be clear on that,"  said Froneman. The transaction is also subject to regulatory approvals.
Stillwater-Sibanye and Lonmin have agreed on cost-cutting initiatives – including an aggressive retrenchment plan – in an effort to cut debt and make the operations profitable. Froneman said Magara's team had made headway in this regard.
"Our view is that there is already some stability in their operational numbers, and they have a much better handle on working capital. We think that by the time we get to the end of the transaction, they will be net cash positive," he said. Buying Lonmin would deliver R1.5bn in annualised pre-tax cost and operational synergies by 2021.
Should Lonmin fail to cut operational efficiencies and narrow debt, Froneman was certain shareholders would vote against the deal. In the event of this happening, Sibanye-Stillwater still had options to acquire certain Lonmin assets independently. The view of South African shareholders, however,  is that the Lonmin deal is "inevitable", he said.
A successful tilt for Lonmin at a low point in the cycle would provide Sibanye-Stillwater with downstream processing at a replacement value significantly higher than the acquisition cost, as well as sizeable platinum group metal (PGM)resources. It would also bring the curtain down on Sibanye-Stillwater's aggressive PGM acquisition strategy which has included the purchase of Aquarius Platinum, Anglo American Platinum's Rustenburg Platinum Mines, and US palladium producer Stillwater Mining.
Froneman also said the deal was equity funded which would have no effect on Stillwater-Sibanye's debt levels. As de-leveraging the company remains a primary focus, the deal was being handled in a way that wouldn't consume cash, he said. "Everyone thinks there will be a big black hole of debt by the end of the year [as a result of the deal], but our models show that should not be the case," said Froneman.
"Pursuing value-accretive opportunities is important, but we won't use our cash. So for the next while, we'll hunker down and deleverage, focus on our opportunities, and consolidate our business," he said.
DIVIDENDS
Froneman told Miningmx that the company had no plans to return to paying dividends until the business had been sufficiently deleveraged.
"We've stuck to our policy of returning 35% of value back to shareholders through a capitalision issue and that's to conserve cash to accelerate deleveraging," he said in an interview following the results presentation.
"I believe that we may do that for one more year and then return to cash dividends by the end of 2018," he said.