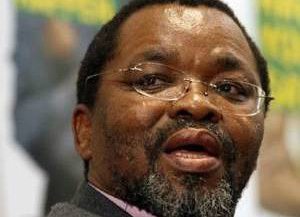 SOUTH Africa's mining sector will have a familiar figure for mines minister in the person of Gwede Mantashe following the widely expected cabinet reshuffle of the country's President, Cyril Ramaphosa, on Monday.
The appointment of Mantashe, a former general-secretary of the National Union of Mineworkers (NUM), finally brings the curtain down on the acrimonious two-and-a-half year reign of current mines minister, Mosebenzi Zwane.
Speaking at a press conference, which was twice delayed, Ramaphosa said the new cabinet appointments reflected "… the need to balance continuity, stability, and the need for renewal, economic recovery, and accelerated transformation".
"I see more of continuity and compromise than renewal," said Iraj Abedian, an independent political analyst on eNCA, a broadcast news station. "We will have to see how he [Mantashe] rises above his own prejudices and years of ideas, and get the mining going." Godfrey Oliphant will continue in his role as deputy mines minister.
The Chamber of Mines was fulsome in its response to Mantashe's appointment. It described Mantashe as "… a man of integrity, of dignity, and who brings with him a sound and fundamental knowledge of the industry". It added that he would "… lead and enable". It added: "He is an extremely tough negotiator, demonstrated both during his time as general secretary of the NUM and in his subsequent political positions".
A number of other notable appointments in Ramaphosa's reshuffle include Nhlanhla Nene who returns as finance minister; Pravin Gordhan who will be minister of public enterprises; whilst in the higher reaches of government, David Mabuza was appointed deputy president. The Chamber also welcomed the appointments of Nene, Gordhan as well as that of Jeff Radebe who was appointed minister of energy.
OLD HAND AT THE WHEEL
Mantashe, a former chairman of the South African Communist Party, and currently national chairman of the African National Congress (ANC), was a trade unionist with the NUM for 24 years having co-founded the organisation with Ramaphosa.
It may, therefore, be no coincidence that given their long association in the NUM, it is Mantashe that takes over mining, especially given the importance imputed to the sector by Ramaphosa who said in his State of the Nation Address that mining could play an important role in the regeneration of the South African economy.
Mantashe was the Witbank branch chairperson of the NUM in 1982. He worked through the organisation's ranks becoming secretary-general of the union in 1999 until 2006.
Commentators described the appointment of Mantashe as controversial. "Gwede is the perfect brawler for the mining industry … they'll love and hate him in equal measure," said Ron Derby, editor of Business Times, a weekly newspaper, on Twitter shortly after the cabinet announcement.
Said political journalist Karima Brown: "To put him there [as mines minister] is either a stroke of genius or a complete disaster. He is a very good negotiator, but he's also a very abrupt person. I am really looking forward to how he will manage it".
Outspoken and determined, Mantashe was the voice of reason when following a three-day ANC lekgotla in August last year – some two months after the publication of Zwane's Mining Charter redraft – he said the mining sector ought to be dealt with "holistically".
"We must deal with the industry … not in a way that appears to be punitive," said Mantashe. "Mining is not a short-term sector … it is a long-term sector … we must create an environment for that industry to perform," he said. His comments at the time suggested there was a faction in the ANC that didn't support new regulations in the Mining Charter.
On February 18, the Chamber of Mines said it would postpone a High Court hearing in which it was seeking to have the Mining Charter redraft set aside in order to enter into new negotiations with the government. Those negotiations have been brought an important step forward given that the Chambers now knows who will be sitting on the other side of the table.