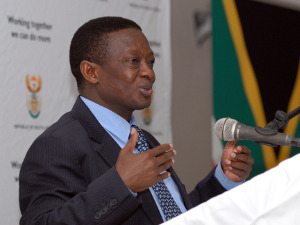 SOUTH Africa's Department of Mineral Resources (DMR) has approached the country's mining sector to contribute a portion of its turnover to a junior miner exploration fund which will also be backed by the Industrial Development Corporation (IDC), said Godfrey Oliphant, deputy minister of mines.
"We are developing a junior miners' funds for exploration capital for black emerging miners," said Oliphant in a keynote speech at the Junior Indaba, a mining conference in Johannesburg. "The PIC [Public Investment Corporation] has also agreed to make a significant contribution to the fund," he said.
"It is a programme I think should succeed. We have approached the formal sector to contribute a small portion of their turnover to the fund," he said.
Earlier Bernard Swanepoel, the convener of the Junior Indaba conference and former CEO of Harmony Gold, criticised the government and the Minerals Council for failing to accommodate the needs of the junior mining sector, especially in the drafting of regulations for the mining sector.
"I get the sense that we don't think we are in competition with the rest of the world," said Swanepoel. "I think we'll lose out to Zimbabwe. I think more money will go to Zimbabwe than South Africa this year," he said.
Responding to questions from the press on the sidelines of the conference, Oliphant said the fund would be capitalised at about R200m with the IDC and the PIC contributing equal amounts to the fund. The amount the formal mining sector would have to contribute was less clear, however.
Oliphant said a requirement in the existing Mining Charter that mining companies contribute 1% of turnover to fund emerging and small-scale mining might be adopted, although he added: "There are some questions about this".