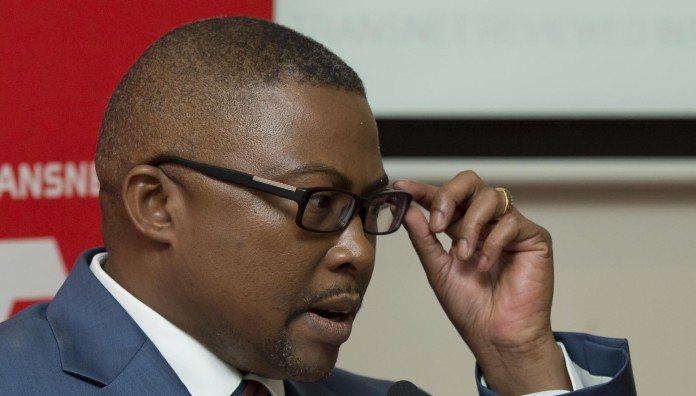 Siyabonga Gama, CEO of rail parastatal Transnet, was his usual affable self as he addressed media on Monday about the group's impressive performance in the year to March, exhibiting no signs of anxiety about his looming suspension.
The parastatal improved its net profit by 75.4% to R4.9bn compared with last year on an 11.3% increase in revenue to R72.9bn. Gama pointed out that the weighted group volume performance growth of 6.5% was six times the growth of SA's GDP in the same period.
Late last week, Transnet's board served notices of its intention to suspend Gama and two other executives. The pending suspensions relate to procurement irregularities. He declined to answer questions about the matter, saying it should be left up to Transnet, its employees and the board.
The annual results were qualified by Transnet's auditors, SizweNtsalubaGobodo Inc, because of the lack of detail on R8.1bn of irregular expenditure. Gama said "value was received but processes were not followed". He said sometimes contracts expired but staff were not aware because the necessary systems were not in place. More automation of contracts was needed. Transnet had drawn up a corrective plan which would be presented to the board for its approval.
The parastatal exported 4.3% more coal to achieve a record 77 million tonnes during the year and also increased export iron ore tonnage to 58.5Mt from 57.2Mt. It said iron ore volumes were affected by "a few abnormal safety incidents, particularly mainline derailments".
Last month Kumba Iron Ore, Transnet's biggest customer, was less dismissive about the derailments. Kumba, which had to declare force majeure to its customers at one point, said it had lost R2bn of revenue as a result of six train derailments in the six months to June. CEO Themba Mkhwanazi said Kumba was still waiting to hear from Transnet on the reasons for these derailments. It had been assured a recovery plan was in place to help it claw back some of its losses.
Asked about the issue, Gama said Transnet had seen Kumba's comments but there was no question of it having to refund Kumba under the take or pay agreement.
Gert de Beer, Transnet's chief business development officer, said the interruptions stemmed from a combination of train configurations, network failures on the portion of the line that had not yet been refurbished and some equipment failures which were being taken up with suppliers. However, Transnet had improved volumes on this line, which showed it was serving its customers.
De Beer said a derailment was a problem for all Transnet's customers. "Why is Kumba feeling particularly hurt? They need to answer as to the causes. We need to work with them to ensure we get better utilisation of our assets. We do not believe we should owe them any penalties or they should owe us."
De Beer said Transnet was refurbishing a tippler at the port of Saldanha and would look for opportunities to improve rail throughput. It hoped to increase iron ore throughput to the port beyond 60Mt/year, possibly to 66Mt, through working smarter, as it had done with manganese tonnages.
Transnet also set a new record for general freight, which includes manganese, with volumes rising to 90.8Mt from 88.1Mt. Gama said Transnet took more market share from road, removing the equivalent of 170 million kilometres of truck traffic from the country's roads.
Gama said phase one of the manganese rail expansion as well as the first phase of the Waterberg coal line expansion were completed and operating. The relocation of the manganese export terminal from Port Elizabeth to Coega was on track for completion between 2022 and 2023.