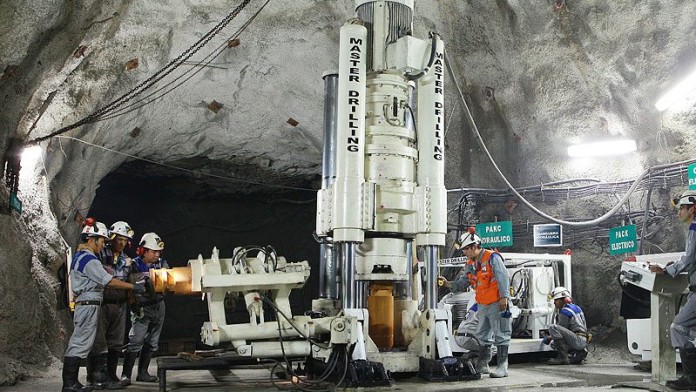 Junior mining and exploration activity in Africa had dropped off materially over the past five years and that development had negative medium and long-term consequences for Master Drilling's business.
That's the view of Master Drilling CEO Danie Pretorius who told analysts – at a presentation of the group's interim results for the six months to end-June held in Johannesburg today –  that management was looking to diversify its business further out of mining.
He cited the growth of major cities as the world's population continue to urbanise as one key area where Master Drilling could possibly find contracts for its new boring technology.  These included the mobile tunnel borer – which will be launched in September  –  which could be used to drill tunnels for water supply and sewage disposal.
Master Drilling has greatly diversified its business geographically in recent years and, for the six months to end-June, sourced 11% of its revenues from Central and North America; 42% from South America; 34% from Africa and 13% from other countries.
But during the six months 94% of group revenues came from the mining sector with 5% from hydro-electricity and 1% from civil and construction.
Replying to questions Pretorius said Master Drilling had put "a lot of effort over the past 18 months" into a possible new venture to diversify the group's business and he hoped to make an announcement on that within  about six weeks.
Pretorius cited the downturn in the commodities markets; currency volatility and the surge of resource nationalism as reasons for the drop in junior mining activity.
He commented, " junior mining activity in Africa is down between 30% and 40% over the past five years however you measure it.  The impact has been particularly marked in the Democratic Republic of Congo (DRC) and Tanzania because of resource nationalism developments in those countries.
"The Tanzanian president (John Magufuli) could be around for another 10 years. Mining companies are just going to have to sit it out before they are prepared  to spend money again."
Turning to South Africa Pretorius commented, "uncertainty continued to prevail in the domestic mining sector over the first half of the year, under-pinned by proposed policies that are not business and investor friendly, amongst which are the proposed expropriation of land with compensation and the draft mining charter, now in its third draft.  Such factors impact on the viability of mining companies and their ability to meet payment commitments."
Pretorius stressed the relevance of Master Drilling's innovative technology to the future of mining because of the productivity  and safety benefits offered by continuous drilling development methods over conventional "drill and blast" development.
He commented, "mining companies world-wide want to improve safety by reducing the number of people exposed to the actual mining face."
Pretorius said Master Drilling's results for the six months had been negatively affected by the strength of the rand against the US dollar but had remained stable.
He commented, "we are cautiously optimistic we will record some improvements during the remainder of the financial year."