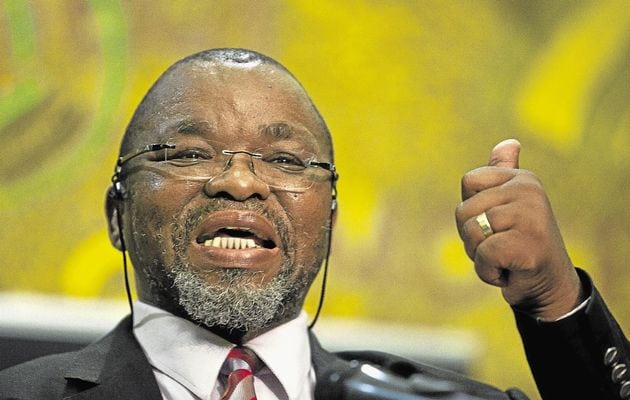 The Department of Mineral Resources (DMR) will appeal the High Court judgement in favour of the Xolobeni community which ruled the DMR must obtain "full and formal" consent from the Xolobeni community before granting mining rights.
That decision was announced by Mineral Resources Minister Gwede Mantashe during a speech given at the CSIR (Council for Scientific and Industrial Research) in Pretoria today on the topic of "the future of mining in South Africa: sunset or sunrise."
In his speech Mantashe stressed the critical importance of good relationships between the mining industry and affected communities.   He said these relationships would ultimately determine whether mining was a "sunrise or sunset" industry in South Africa but he commented the Xolobeni decision had to be challenged by the DMR.
The court case relates to the application by an Australian firm, Transworld Energy and Mineral Resources, for mining rights to the Xolobeni's land in the Eastern Cape province where it wants to establish an operation to recover heavy mineral sands which are used in the manufacture of paint.
Mantashe commented, "I am going to appeal the Xolobeni judgement for two reasons.  One is the taking of the right to issue (mining) licences from Government to communities. If we do that there is going to be chaos.
"The second is the subjugation of the MPRDA ( Minerals and Petroleum Resources Development Act )  to other legislations.
"When the judgement says you must get full consent of communities it means the State no longer has the authority to issue licences. It is communities that must issue licences.
"If we agree to that there is going to be chaos. That chaos will come from the communities themselves. Every time there is a mine development the first fight is between the traditional leaders and their communities over who should be in charge.
"That's where it becomes ugly to the point of almost saying there's no traditional leader here.  It's us people who are here.
" The second fight is (with) people who come in as representatives of communities or committees and structure trusts for communities in a way that benefits them individually and not the communities."
Mantashe commented the first thing he did when he became mines minister some ten months ago was to visit all the major mining areas to "reconnect with those communities."
"The message I got back from them was that – 'mining companies do not talk to us'. So I went to the Minerals Council (the former Chamber of Mines) and said to them you are not talking to communities and you are not going to survive the pressure from communities because you are going to be disrupted all the time."
Mantashe added he had levelled the same criticism at the DMR saying he told his staff "the Department is not talking enough to communities."