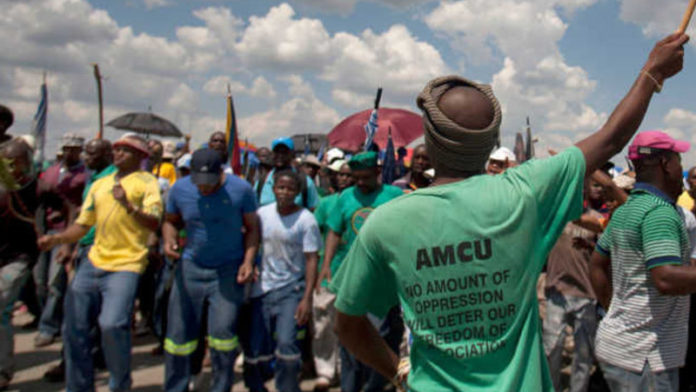 THE Association of Mineworkers & Construction Union (AMCU) called out members at its gold, coal and platinum mines on strike to protest the possible retrenchment of about 6,700 workers at the gold mines of Sibanye-Stillwater, said Bloomberg News citing AMCU's president, Joseph Mathunjwa.
"We control these mines," Mathunjwa told reporters at a press conference in Johannesburg today. He declined to say when the secondary strike will start, but said it would include members at companies such as AngloGold Ashanti and Harmony Gold as well as Lonmin and Impala Platinum.
AMCU, the biggest labour union in the nation's platinum-mining belt, is escalating threats in a standoff with Sibanye CEO, Neal Froneman, who announced last week that the company may cut jobs at its Driefontein and Beatrix mines, said Bloomberg News.
AMCU started a strike over wages at the company's gold mines in November, and held a stay-away at Sibanye's platinum operations last month. Mathunjwa said that Sibanye was targeting job cuts at AMCU and called for investors to pull funds from the company.
AMCU will welcome participation by communities in a wider strike that's more about ordinary citizens not benefiting from the country's mineral wealth, according to Mathunjwa. "The question is, what will happen to the millions of South Africans if we keep quiet?"