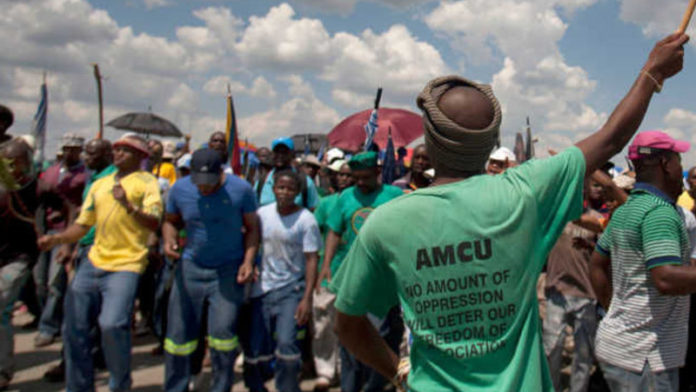 THE Association of Mineworkers & Construction Union's (AMCU's) efforts to broaden industrial action has failed after the Labour Court today judged a secondary strike to be unprotected, according to a statement by Lonmin.
Lonmin said the Labour Court had "… passed a judgement that the secondary strike proposed by AMCU would be unprotected, preventing the union and its members from undertaking such action at the company's operations".
Lonmin added that its shafts continued to run "as normal".
AMCU called the secondary strike in support of union members out on strike since November at the Driefontein and Beatrix gold mines owned by Sibanye-Stillwater. The intention was to put further pressure on the company by disrupting production at Sibanye-Stillwater's Rustenburg platinum group metal operations.
The union had earlier withdrawn secondary strike notices at a number of other companies including DRDGold and African Rainbow Minerals citing legal difficulties. Today's court judgement raises questions about the sustainability of its gold strike, primarily over a wage deal AMCU declined to accept in November.
The gold strike has been punctuated with regular incidences of violence and damage to property and loss of life. An inter-ministerial group has been holding meetings with AMCU and the National Union of Mineworkers (NUM) over violent protests in the Carletonville area, west of Johannesburg, where Driefontein is located.
Neal Froneman, CEO of Sibanye-Stillwater, said in February the company has the ability to withstand a prolonged AMCU strike.
However, it has sought to bring the union to agreement offering a package to striking employees earlier this month including bridging loans and salary advances so they could absorb the effects of the strike action.
AMCU STRIKE JUDGED UNREASONABLE
In her ruling, in which she deliberated for more than two weeks after reserving judgement on February 28, Judge Connie Prinsloo said AMCU's proposed secondary strike would have "a major effect" on the South African economy, far outweighing the "negligible" benefits it would have in compelling Sibanye-Stillwater to accede to AMCU's gold wage demands. It was therefore "unreasonable".
It also appears that comments made by AMCU president, Joseph Mathunjwa, that the secondary strike would bring the mining sector to a standstill worked against him. Judge Prinsloo said the purpose of the secondary strike was to pressurise the primary employer only.
"The purpose and the aim cannot be to bring an entire industry to a standstill, without any consideration of the possible effect the secondary strike would or could have on the primary employer," Judge Prinsloo said.
"I am satisfied that the applicants have made out a case that the secondary strike is unreasonable and that AMCU has failed to rebut the applicant's case and failed to show that there is justification for embarking on the planned secondary strike."
The applicants included gold producers AngloGold Ashanti and Harmony Gold as well as Sibanye-Stillwater's Rustenburg Mines and Northam Platinum.
Sibanye-Stillwater's November agreement with the NUM and other unions was to raise basic wages for most categories of gold mine employees, surface and underground, by R700 a month in each of the first two years, and to R825/month in the third. Housing allowances and medical benefits were also lifted.
AMCU's gold industry wage demands, first tabled in June last year, were for R12,000 per month per entry-level employee.