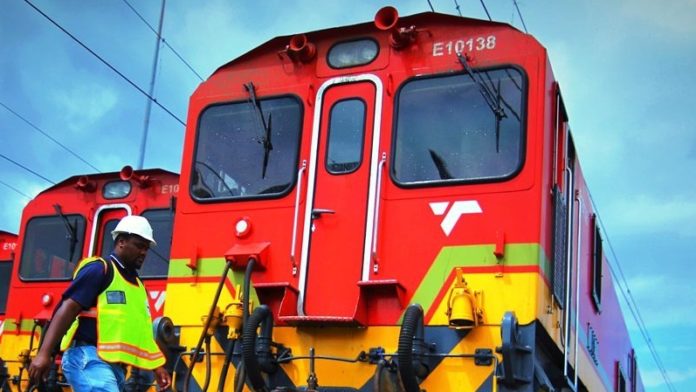 UNTIL now the extent of corruption at the South African government-owned transport and logistics company, Transnet, has largely been background noise to the extraordinary drama that is Eskom and other imbroglios, Bosasa for instance.
It's a fact not lost on its former CEO, Tau Morwe, a veteran of the organisation having worked across its various businesses for more than 17 years. He stepped down from Transnet on May 3, making way for CFO, Mohammed Mohamedy.
"When we met with lenders recently, they wanted to know from us how bad things were at Eskom," he said in a recent media briefing. The notion is that no matter what may be revealed as Transnet chairman Popo Molefe's appears before the Zondo Commission inquiry, it can't be worse than the litany of corruption uncovered at the power utility.
Yet state capture is as much a phenomenon at Transnet with former executives and managers of various stripes facing a raft of allegations in which they accepted hundreds of millions of rands in kickbacks, according to a report by City Press.
High on the agenda will be the Transnet dossier called 'Tainted Deals and Kickbacks'. According to City Press, it shows that over R8bn in bribes were paid in 10 lucrative contracts between 2012 and 2017. There were also allegations that R92.6bn was laundered through Gupta-owned Homix from Transnet's telecommunications service deal with Neotel. The rot extended its influence to junior Transnet staffers who suddenly bore income some R350,000 higher than a year before. They bought luxury cars and houses. For cash.
Morwe wouldn't speculate on the extent of the fraud and corruption at Transnet, and there's equal uncertainty on whether a qualification placed on the firm's 2018 financial results last year will be removed this year. Quite likely not, given that fresh instances of state capture that are being identified and quantified.
Some things are clear though: "We do want to get the money back," said Morwe. "We will make every effort to do this and that's what we have on the table at the moment."
TRUST DEFICIT
In the meantime, Transnet's executive committee, which is almost entirely comprised of managers occupying acting positions, is working to win back the trust of its clients, employees and – critically importantly, lenders, especially as the trust of society at large is unlikely to be regained any time soon.
In pursuit of this, the board's mandate is to look at structural issues within Transnet in an effort to nurse itself back to financial health; a kind of self-help apparently beyond Eskom. This involves scrutiny of its systems, controls and business practices. For instance, when a customer approaches the organisation looking for business, there seems to be no communication between Transnet Port Authority and Transnet Freight Rail (TFR) on how services ought to be supplied.
"In November, we brought in customers for a meeting with the board and management," said Morwe. "Clients were brutally frank about the company's performance." The bottom line is the customer. And if the customer believes Transnet is meeting its targets, "… we feel as if the organisation is at least adding value to the economy," said Morwe.
In this context, TFR, which accounts for half of Transnet's total earnings, has been identified as a particular problem area. One thing that will change is how Transnet allocates capital to TFR such that it is re-considering expansion plans that once committed it to expanding its coal line to 91 million tons a year (Mt/y) – an important element in its Market Demand Strategy (MDS).
Mohamedy said the thinking behind the company's MDS was "… not appropriate anymore".
The MDS was adopted by former CEO, Brian Molefe, in 2012 following then president, Jacob Zuma's State of the Nation address which sought to place Transnet at the centre of the government's drive to boost future economic growth and job creation, largely through infrastructure development.
Through the MDS, Transnet targeted capital expenditure of R300bn over a seven-year period in an attempt to create up to 220,000 new job opportunities. As part of this strategy, the 580-kilometre coal line from Mpumalanga province to Richards Bay Coal Terminal in KwaZulu-Natal province, was to be expanded to 91Mt/y from then levels of 68.5Mt/y.
Mahomedy said that whilst there was a business case for MDS at the time, the ramp-up in commodity demand that was expected to resume (following a correction in minerals and metals pricing that lasted until 2016) did not materialise. "There was no longer any need for it," said Mahomedy. "We need a programme that is more responsive."
He added that Transnet had to focus its capital spending plans on catching up on a backlog whilst expanding where it could in a more sensible manner. "About 70% of Transnet's volume density is on 1,500 kilometres of track, but we have some 30,000 kilometres so we don't need to be spending billions where there is no volume density," Mahomedy said.
The coal line delivered 72.9Mt in 2018, according to a Richards Bay Coal Terminal presentation in January. This was below the 75.6Mt delivered in the 2017 financial year which represented the highest tonnage railed in at least nine years.
What this means for South Africa's coal industry is that funds may be in short supply to see through planned expansions that still pass muster with the company's credit committee, and to catch up on backlogs.
Brian Monakali, acting head of Transnet Freight Rail, acknowledged backlogs existed and that all avenues of funding would be addressed to bridge any shortfalls in funding. "There is a backlog in capital requirements," he said.
"Take for example the Waterberg coal line. All these projects will need significant funds. The 120-kilometre Waterberg line requires R20bn and we have not kept up with the maintenance backlog. We are looking at private sector funding and all other options such as development finance institutions. It is a serious backlog," he said.
TAKING BACK THE TREASURY
How money is spent in Transnet is the defining, critical factor to its restoration. The way Morwe describes it, the organisation is "… taking back control of the treasury".
"The board is providing oversight, but it is not making decisions over procurement; that is for management. The delegation of authority has changed significantly. Capital investment only exists through mandated committees and not through individuals.
"The root cause of state capture is that the individual has authority; a situation in which 'I recommend it and then transaction executed on that basis'". That now has gone.
The company is busy with the recruitment process so that by June it should be able to fill its non-executive director positions with executive director positions being filled in tandem. "By August we should see movement in announcements in this regard," he said.