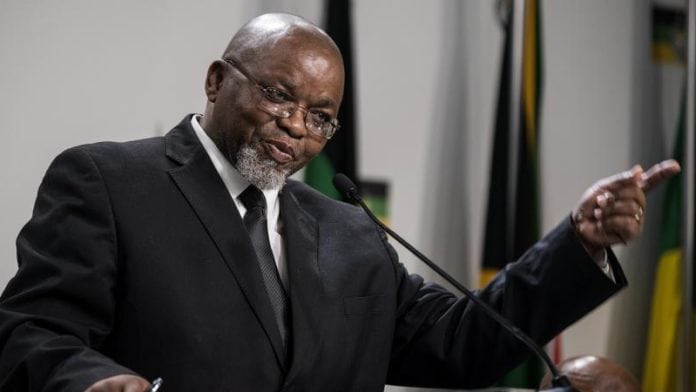 SOUTH African president, Cyril Ramaphosa, kept a steady hand on key cabinet positions today unveiling a national executive of the country's sixth administration in which Gwede Mantashe remained in charge of the mining portfolio.
Ministers responsible for finance and public enterprises were also unchanged with the re-appointments of Tito Mboweni and Pravin Gordhan respectively. The latter reappointment makes the
However, Mantashe will have his hands full as Ramaphosa announced that the energy department would be merged with mineral resources harking back to a period before the Jacob Zuma administration when energy and mines operated as one.
This means Jeff Radebe, a minister in every administration since South Africa's first democratic government under the late Nelson Mandela, has no portfolio having last been the minister of energy.
Godfrey Oliphant was ejected from the deputy minister's post at mineral resources – a position he held since 2014 – in favour of Bavelile Hlongwa, deputy executive chairperson of the National Youth Development Agency.
A re-appointment that will dominate the headlines is that of David Mabusa as deputy president. Mabusa delayed his May 25 swearing in ceremony in order to meet with the ethics committee of the African National Congress which had identified him as a potentially compromised politician. Mabusa was sworn in as MP on May 28.
Commenting on the merging of ministries – which saw total ministers reduced to 28 souls from 36 under the Zuma government – Ramaphosa said consultations agreed "across the board" that the cabinet was previously "bloated. This is a significant move in downscaling our state," said Ramaphosa.
"A reconfigured state is an idea, but we also see it as a process that should lead us to a blue print for the type of government that we all seek. We are all on a journey," he said.
Said Ramaphosa: "If we are to give effect to this mandate we need a capable, efficient and ethical government". He added that as per his State of the Nation address in 2018, it was critical the state was "… optimally structured to meet the needs of people and efficient use of public resources".
He had been guided by "… the need to build a modern, developmental state that can drive economic transformation, embrace innovation, and direct resources to where they will have the greatest impact".
For the first time, women occupied 50% of all cabinet posts in South Africa.
Musi Maimane, leader of the Democratic Alliance (DA), South Africa's official opposition party, acknowledged the reduction in ministries, but was not so laudatory of the large number of deputies appointed which Ramaphosa said was required in certain portfolios given the complexity of the tasks at hand.
"It's different actors playing to same script," Maimane told eNCA, a broadcast news channel. "There is no reform as focus is on the NDP [National Development Plan] and many of the appointments have not been schooled on it," he said.