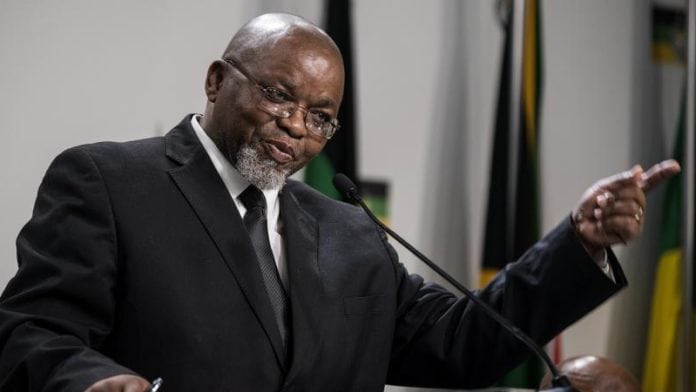 THE South African government would invest R20m in developing and improving the minerals licensing system whilst "significant strides" had been made in addressing the backlog in licence applications, said Gwede Mantashe, the mines and energy minister.
Delivering the Department of Mineral Resources budget vote address to South Africa's Parliament on July 10, Mantashe added that turnaround times in the processing of applications also had to improve.
Elsewhere in the address, he called on platinum group metal (PGM) companies and unions to negotiate "in good faith" when wage negotiations begin, imminently.
Said Mantashe: "Over 2018 to 2020, a total of 60 mineral resources projects are in the pipeline, with an investment estimate value of R110bn, and a projected employment of 32 000 jobs. These are projects in exploration, expansion, new mines and processing plants. We recognise the growth of junior miners, who are significant players in exploration.
"To meet these initiatives and demands, we have set aside R20m in the current financial year to improve and develop an integrated licensing system over the coming two years. We have made significant strides in processing the backlog in licence applications, in our Mpumalanga, Limpopo and North West regions. These offices have now been reopened".
He said that "… timeframes must be short, without having to effect major legislative amendments, by adopting more effective and efficient internal processes. This will ensure that we are more responsive to the needs and requirements of our applicants".
Mantashe also pledged to resuscitate green field exploration in South Africa in an effort "to capture" 5% of the $10bn global exploration share. "The investment will attract a minimum of R8bn into the exploration sector".
In a presentation on the sidelines of Mining Indaba 2019, the Minerals Council said junior miners now accounted for about 10% of the industry, concentrated in industrial minerals/quarrying, diamonds and coal. Its definition of a junior miner is annual revenue of R500m or less, which differs from the Charter measurement of R150m.
Revenue in the junior mining sector in 2018 was estimated to amount to R54.4bn while miners in that category spent R55.5bn.
However, there was a reluctance by juniors to seek public listings. Grant Mitchell of the Minerals Council said only 10 junior miners were listed on the Johannesburg Stock Exchange, compared to about 1,000 on the Toronto Stock Exchange.