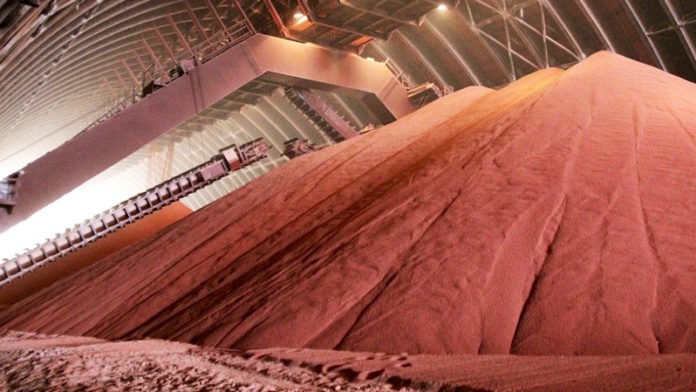 KORE Potash said it was reviewing a proposal that could see it reduce the capital cost of its Kola project in the Republic of Congo (RoC) by 20%.
"The process to optimise the Kola capital cost has commenced," said Brad Sampson, CEO of Kore Potash in a statement. "We are also underway with our own exercise with highly regarded international engineering groups to obtain comparative pricing against the Kola bill of quantities," he added.
Kore Potash, which has a secondary inward listing on the Johannesburg Stock Exchange, said in a definitive feasibility study published in January that Kola would cost $2.1bn to develop. It would produce of 2.2 million tonnes of potash a year over a scheduled life of mine of 22 years.
It said today, however, that it had received a new proposal from the French consortium of engineering companies (FC) that had identified "… opportunities to reduce the capital cost of the Kola Project by $415m.
"The company expects to continue discussions with the FC to fully understand their proposal for capital savings and to further explore additional options to reduce the capital cost and to shorten the construction schedule for Kola ahead of commencing the financing phase," Kore Potash said in a statement.
The FC said in January there were opportunities to reduce the capital cost of the project by $117m and limit the construction schedule to 40 months compared to the current schedule of 46 months. The proposed reduction in the capital cost is a significant out-performance.
Some of the other aspects of the feasibility study is that Kola will have a 4.3-year payback period and a real ungeared internal rate of return of 17% on an attributable basis assuming a life of mine potash price of $360 per tonne, including the cost of delivery. The average annual free cash return would be $500m based on pre-tax earnings of $585m a year.
Kore Potash said in June it had raised $13.1m to complete the first phase of capital optimisation of Kola as well as conduct a pre-feasibility study on another project, the so-called DX Project or  Dougou Extension.
In respect of DX Project, Kore Potash was setting about preliminary work such as reviewing proposals from a number of international consulting companies ahead of selecting an engineering partner for its pre-feasibility study.
"Kore now has two world class potash projects in Kola and DX – their close proximity to target markets creates permanent competitive advantage, especially compared to Northern Hemisphere assets," said Sampson.