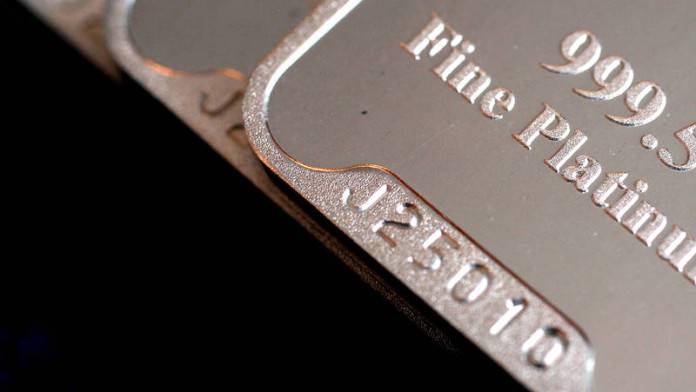 EXPOSURE to platinum group metals (PGM) production would benefit Anglo American compared to its rivals that were involved in bulk mining, said RBC Capital Markets in a report today in which it also revised upwards its PGM forecasts.
The Canadian bank increased its platinum forecast 2% in 2019 and 6% in 2020 to $950 per ounce with a long-term price of $1,100/oz. It also said palladium prices would be 3% and 5% higher in 2019 and 2020 than previously forecast at some $1,575/oz with $1,100/oz as its long-term price.
The palladium price would trade as high as $1,750/oz during the year, it said. The metal already – briefly – traded through $1,700/oz on October 1 before retracing slightly, but the view of analysts is that the palladium bull trend was likely to continue.
"Underlying fundamentals have been supportive all year for palladium and there is a shortfall in supply. It will extend until the music stops, and right now there's nothing that really is calling for that music to stop," said Saxo Bank commodity strategist, Ole Hansen.
The sustained improvement in PGMs would benefit Anglo over its rivals that were exposed to volatilities in iron ore and coal production. The iron ore price was 34% higher year-on-year but 20% weaker in the quarter, according to Goldman Sachs. Thermal coal prices at $70/t were 39% lower year-on-year, it said.
The contribution from Anglo American's 80% stake in Anglo American Platinum would comprise 18% of group EBITDA in the 2020 financial year after years of under-performance. Amplats was "… a rare bright spot in mined commodities,," said RBC.
PGMs would also assist Anglo against poor diamond pricing which would negatively affect De Beers in which it had an 85% stake. Diamond prices were expected to bottom this year.
Anglo's cash flow yield was relatively low at 2% but it had the highest buyback to market capitalisation ratio of the London-listed diversifieds.
"Finally, Anglo American appears to have sector leading innovation gains which management expects to generate a $1bn uplift in EBITDA by 2022 and as yet uncaptured in our numbers," said RBC Capital Markets.