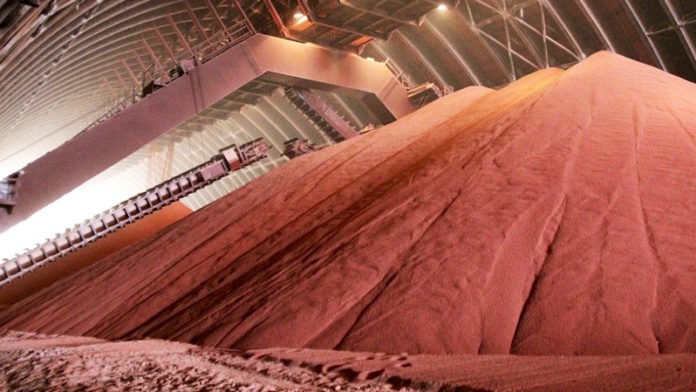 AFRICA barely features in world potash consumption numbers – comprising only 1.2% of 2017's 65.8 million tons in demand. As for supply, it's non-existent.
That's why Brad Sampson can say with confidence his company's Kore Potash projects, situated in the Republic of Congo (RoC), is likely to disrupt the delicately balanced fertiliser market.
"It's true that potash is a tightly controlled market that actively discourages new entrants, but we're not trying to do that," says Sampson. But there is an opportunity to supply niche markets such as Brazil, a mere 4,400 nautical miles west of RoC's port, Pointe Noire. Or Africa itself.
Other developers have cottoned on to the long-term prospects of a growing African population, and pressure on existing arable land.
Faced with interminable technical and environmental delays in its South African base, Kropz is working on its own RoC fertiliser project: Hinda which – if developed – will produce phosphate. Phosphates offers similar benefits to agriculture as potash. Kropz is also working on another phosphate project in Ghana. Ethiopia, meanwhile, has prepared a draft paper on mineral development which has identified potash as one of the minerals it wants to have developed, according to a recent report by Reuters.
As with nearly all early stage development projects, however, Kore's progress has been a stop-start, affair. It initially scoped the Kola project which a consortium of developers said in January this year would require $2.1bn in pre-development capital. Whilst working on the optimisation of Kola – $400m has been knocked off the capital cost so far – Kore has shifted its attention to an adjacent property, the Dougou Extension, known as DX project.
Sampson describes it as "very high grade" and at $200m, a snip of Kola's capital bill. "It's very shallow, on the coastline, with no major transport costs involved," he says.
The market, though, is not awarding Kore much credit for work done to date. Shares in the company have fallen 84% in value over the last 12 months, a decline Sampson thinks is partly to do with having kept a low profile.
"We've only just started talking to investors, and so there's no retail trade in the share; that's what makes the share move," he says. The stock is also fairly illiquid: 70% is held by the top five shareholders. That could potentially change, however, as investment decisions come into view. There's also the possibility Kore could introduce a joint venture partner in order to get the DX project on the road.
A prefeasibility study for DX, which is currently underway, is scoping a 400,000 tons a year operation – roughly half of Africa demand – over a 17 year life of mine, and generating annual free cash flow of $74m in that time. Payback has been put at about four-and-a-half years, according to a Kore presentation.
A mining convention has been granted and whilst environmental approvals are still outstanding, Sampson says the RoC government is on-board. Which begs the question as to why the RoC hasn't attracted investors for its potash until now?
"There's no great background in mining in the RoC and the country has been living off oil and gas discoveries for a long time," says Sampson. "But now the government is an active supporter of its mining sector."