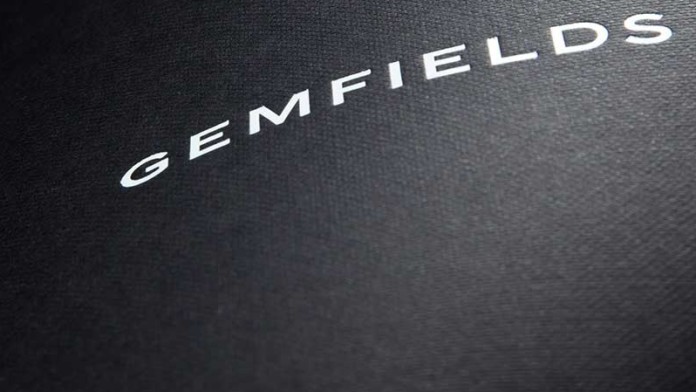 IT'S not often retail investors speak out at the presentations of companies in which they're shareholders. But that's what happened earlier this month to Gemfields, the Johannesburg- and London-listed coloured gemstone mining and marketing firm.
"You look after us and we'll look after the share price," an investor instructed management during question time after having absorbed the disappointing news that Gemfields' 2019 financial year would not conclude with a dividend.
Gemfields CEO, Sean Gilbertson and his right-hand executive, David Lovett, CFO, had earlier in the presentation commented on the poor performance of the firm's share over the last 12 months: better than the firm's rivals in the diamond space, and other gemstone miners, but far below what they expected. (The share was once R5/share).
In truth, shares in Gemfields languish at lowly sub-R2/share levels, equal to $100m in market capitalisation. This is despite having had its two main assets – the Kagem and Montepuez mines in Zambia and Mozambique respectively – valued by the consulting engineering firm, SRK, at some $1.2bn.
The investor was right to an extent. Gemfields has chronically failed to unlock its net asset value in the 13 years of its existence, having for most of those years traded as Pallinghurst Resources.
Pallinghurst, launched by mining industry titan, Brian Gilbertson, was a closed-end investment company that promised much, but never quite caught the imagination. Of its investments, the spectacular manganese mine Tshipi in South Africa's Northern Cape province – a mine shared with Saki Macozoma's Safika Holdings – bore substantial fruit. But the group's diversified platinum and gemstone offering didn't fire as hoped.
Since 2018, Pallinghurst has slowly unwound its investments, retaining only the coloured gemstones rump which was re-branded and re-listed in London as Gemfields. The liquidations included shares in Jupiter Mines, a steel feed company, which netted a significant cash pile some of which was passed down through dividends. The last tranche of shares in Jupiter Mines, however, will not end up in investor hands.
Gemfields is very far from paying another dividend. In fact, the watchword for the firm's 2020 financial year is 'survival' going by the comments of Sean Gilbertson, who is – should you be wondering – the son of Brian.
Speaking during the results presentation, Gilbertson said the company was hoping that  $45m in net cash as of end-February, generated on the back of a good operating performance in 2019, might be enough to see it through the year given that it might be difficult to generate any revenue in that time.
"The name of the game is to make remaining cash last for as long as possible as we don't know the extent of the delay we could be facing," said Gilbertson. The delay refers to the effect of COVID-19 related travel restrictions that make it impossible for Gemfields to convene auctions for emeralds and rubies it mines from Kagem and Montepuez respectively.
One of the first auctions for the gemstones would have been in May, but the likelihood of that happening seems slim. The firm has pencilled in an auction in the final quarter of the year, but it is also preparing for longer downtime, possibly by up to 15 months.
Without a fully functioning coloured gemstones business, there's not much to go on at Gemfields. It has a residual 6% stake in Sedibelo Platinum Mines, but Gilbertson said interest in the asset – held for sale – was low, given its illiquid nature. The company also controls Fabergé, the jeweller, through which Gemfields markets its rubies and emeralds.
Fabergé looks expensive to run, involving hefty marketing fees. The once iconic brand – described by Gilbertson as the most substantial outside of the major and corporatised luxury jewellery brands – has failed so far to capitalise on its history in a way that registers with today's society. One tends to think of Fabergé in terms of ornate eggs, curious glittering museum pieces, rather than trendy, utility style accessory wear.
Gilbertson confirmed Gemfields had received five or six bids for Fabergé. Why hadn't the company plumped for one of those offers, an analyst wanted to know? "Because it didn't meet our internal valuation," said Gilbertson – the story of Gemfields' life, it seems.