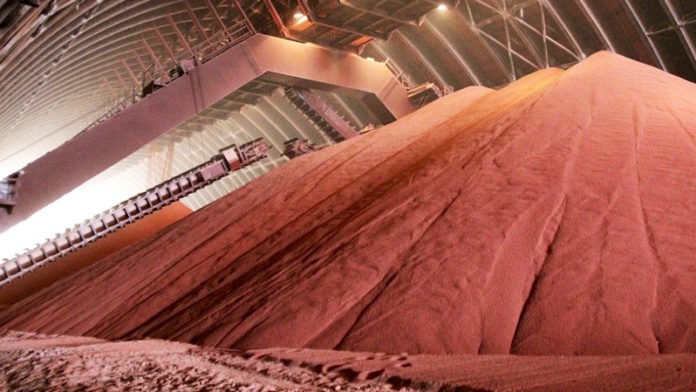 KORE Potash prepared the ground for discussions with financial backers for its Dougou Extension (DX) potash project in the Republic of Congo (RoC). The project was today scoped at a largely expected 400,000 tons a year of muriate of potash requiring 21 months of construction at a pre-production capital cost of $286m.
This was in terms of a pre-feasibility study which has planned for an 18-year life of mine for DX during which time EBITDA of $118m would be generated.
The company had initially scoped out Kola, a tier-1 project that is part of the Sinotoukola Potash Project (of which DX is also a part). Developing Kola however, comes with a hefty pre-production cost of $2.1bn.
In January, Kore failed to extract an improved proposal from a consortium of French engineering companies for the construction of the Kola project, though some incremental cost savings had been achieved.
"Planning for the definitive feasibility study (DFS) is progressing well and will be communicated to shareholders once the detailed scope and costing is completed," the firm said in an announcement to the JSE. "The DFS planning stage includes consultation with potential debt financiers for the construction of the DX Project."
Increasingly, the specialised resources sector has been turning its attention to the prospects offered by mineral fertiliser production. According to a report by Bloomberg News this week, Lithium Australia is hoping to recycle alkaline batteries in order to extract zinc and manganese which are known nutrients.
In January, Anglo American bought Sirius Minerals for £405m for its Woodside polyhalite project, another source of fertiliser aimed at the food security market. In addition to these minerals, and Kore Potash's proposed product, there is phosphate – a mineral that South Africa's Kropz has been trying to mine and market.
"The estimated $286m capital cost to construct the DX Project in just 21 months makes it attractive from a capital and near-term cashflow perspective, and low operating costs will allow Kore to profitably deliver MoP to our target markets," said Brad Sampson, CEO of Kore Potash in the PFS announcement.
"Building on the PFS and previously published positive scoping study for the DX Project, we can rapidly progress to conducting a definitive feasibility study, which will continue to improve Kore's understanding of the asset and de-risk the DX Project even further."
According to today's PFS numbers, the DX project would earn a payback in just over four years and annual generate post construction, post tax free cash flow of about $95m.
Shares in Kore increased 6.25% in Johannesburg and were last trading at 17 South African cents/share taking it off its 12-month low after once trading at 50c/share on May 20, 2019. Sampson told Miningmx in November the company had deliberately kept a low profile which might explain the under-performance of the firm's share price.
"We've only just started talking to investors, and so there's no retail trade in the share; that's what makes the share move," he said.
The stock is illiquid with 70% held by the top five shareholders. That could potentially change, however, as investment decisions come into view. There's also the possibility Kore could introduce a joint venture partner in order to get the DX project on the road.