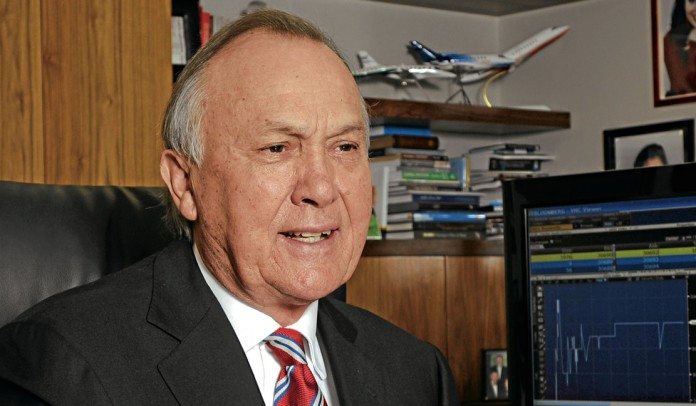 EVIDENCE is mounting that a run is being staged on Gemfields shares after one of the UK-listed firm's higher profile shareholders, Christo Wiese, sold most of his stock on Tuesday.
A statement by Gemfields to the JSE yesterday said a tranche of 154.7 million shares was sold – almost all of Wiese's 13.72% stake in the company.
Some 136.7 million shares were sold for R3.50 apiece, said Gemfields.
Wiese, who is renowned in South Africa for building a retail empire, kept a beneficial interest of 0.49% in Gemfields which has seen about 26% of its share capital change hands since the beginning of September.
The buying has been by Assore, the privately-held bulk mining investment firm. Gemfields said it hadn't been informed of the buyer's identity, but if it's Assore* the company will be within striking distance of having to make a mandatory offer for the remainder of Gemfields' shares.
According to UK listing regulations, a mandatory offer is required when a single shareholder buys up to 30% of the stock.
On September 22, it was disclosed that Assore, which is in joint venture in iron ore and manganese mines with African Rainbow Minerals, had increased its stake in Gemfields to 12.7% after buying 90.5 million more shares at a cost of R290m.
Shares in Gemfields have been bought at between 3.20 and 3.50 per share. Shares in the company were 3% weaker in Johannesburg today at R3.00/share.
On September 23, Gemfields announced a taxed profit of $23.8m for the six months ended June compared to a loss of $56.7m in the six months of the previous financial year.
Last year's losses were due to the suspension of ruby mining at its Montepuez mine in Mozambique and the Kagem emerald mine in Zambia owing to the outbreak of the Covid-19 pandemic and subsequent suspension of gem auctions for the year.
"We are delighted to announce our return to strong operational and financial performance after the Covid-induced horrors of 2020," said Sean Gilbertson, CEO of Gemfields. "With the mines back in full-swing, a much-improved cash position and the step-change in market demand we've witnessed in our recent auctions, we are palpably excited about the remainder of 2021," he added.
However, the company warned that "… following the mines reopening and the associated cost increases, the current multiples for EBITDA (earnings before interest, tax, depreciation and amortisation) and free cash flow are unlikely to be repeated in the second half of the year".
*Gemfields confirmed on Wednesday evening Assore was the buyer of Wiese's stake.