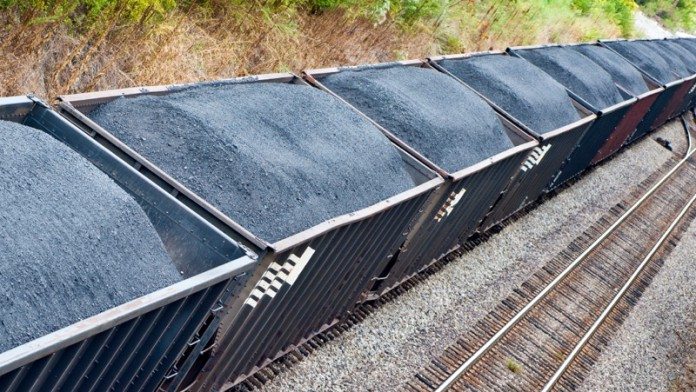 WHERE we used to get a number of trains a week, we get some sporadically every other week. It is not getting better as we sit here so there needs to be some intervention," Phoevos Pouroulis, CEO of platinum group metals and chrome producer Tharisa said in May.
The sheer weight of numbers documenting the underperformance of Transnet, the government-owned port and rail utility, can become dizzying. But it's worth regurgitating a few to illustrate Pouroulis's concern.
Transnet's underperformance last year cost South Africa an estimated 6% of gross domestic product, according to Jan Havenga, professor of logistics at Stellenbosch University. "The direct impact was a loss of over R100bn in export revenue, and probably R40bn to R50bn in tax revenue from the mining companies," he said.
"Last year the iron ore line delivered its lowest volumes since 2010; the coal line, its lowest volumes since 1993; and the general freight network, its lowest volumes since World War Two."
Henk Langenhoven, chief economist of the Minerals Council SA, said in 2022 Transnet delivered R50bn less than it had contracted, but the design capacity of the various rail corridors was actually R150bn more than it delivered. That means the mining industry could have made 10% more than its actual turnover of R1.3 trillion in 2022, if Transnet Freight Rail (TFR) – Transnet's largest business unit – had been performing properly.
In April, in a meeting with leading exporters in the mining industry, which led to the formation of a Logistics Crisis Committee, President Cyril Ramaphosa reportedly described the logistics crisis as of "catastrophic proportions".
Thankfully, for mining companies with billions in sunk capital in South Africa, there are several viable options to fix the situation.
The problem is that Transnet has been very reluctant to cooperate. War rooms were set up under the auspices of the Minerals Council, and they meet regularly to solve issues, but they lack teeth – Jan Havenga
One is for bulk export miners to truck commodities instead of railing them, although the viability of this turns on price. "This worked for coal last year when prices rose to $400/t from $100/t," said Havenga. "But there is a limit on how much can be transported by truck. We've already seen the congestion of manganese trucks in the Northern Cape and the damage to the roads from coal trucks in the north east of the country. This option is not a 'normal' bulk mining option anyway."
"With much lower coal prices at present, it is not possible to truck so much coal, so even more money is lost."
Thungela Resources trucks a limited amount of coal between operations to manage stockpiles and optimise the transfer of coal to rail, said its CEO, July Ndlovu. "Given our focus on exports, if we sent more material by truck it would worsen the road infrastructure. The board and executive have decided that working with TFR is the solution," he said.
"Other responses are to curtail production and to upgrade the coal that is being exported so that the highest-margin coal reaches Richards Bay Coal Terminal (RBCT)," Ndlovu said. "We are also selling some coal domestically that can be trucked to customers, to maximise our cash flows."
Havenga said the second option available to miners is to work with Transnet to fix the problems. For instance, this could be by contributing to security, or helping to fix the line speedily after an incident. Or mining companies can assist Transnet with its operational difficulties.
"The problem is that Transnet has been very reluctant to co-operate. War rooms were set up under the auspices of the Minerals Council, and they meet regularly to solve issues, but they lack teeth," Havenga said. This has not had universal agreement, with the Minerals Council's Langenhoven saying there were areas of improvement.
The third option is presidential intervention.
"Earlier this year, the president 'invited' Transnet, its board and its minister to a meeting where he asked questions and explained the harm that Transnet's underperformance was causing to the economy, and instructed them to co-operate more," Havenga said.
"The president promised in his annual State of the Nation Address to provide a logistics roadmap to fix Transnet. He then invited the major exporters to a meeting, including the mining houses and the South African Freight Forwarders Association, where it was agreed that a Logistics Crisis Council would be formed, with teeth (unlike the war rooms) to co-ordinate solutions."
"This committee will have interministerial oversight and both public and private sector participation. This crisis committee is in the process of being established. The president has also spoken to other business leaders about the issues," said Havenga.
Production cuts
In the meantime the much feared 'worst-scenario' – the contraction of the mining industry – is happening. While mining companies try to do what they can to fix Transnet, some of the majors are cutting back production forecasts.
In March, Thungela slashed its 2023 production forecast to between 10.5 million tons (Mt) and 12.5Mt, which compares to an export capacity output of 15Mt/year. It lost about 3Mt of saleable export production in 2022.
Kumba Iron Ore railed only 35.9Mt of iron ore to Saldanha in 2022, considerably less than its capacity of 44Mt, because of Transnet's steadily declining performance. Chairperson Terence Goodlace attributed Transnet's underperformance to poor maintenance and operating practices, compounded by a strike in October 2022, as well as shutdowns for port refurbishment. He said these issues needed to be fixed quickly. "Time is not on our side," he added.
Given our focus on exports, if we sent more material by truck it would worsen the road infrastructure. The board and executive have decided that working with TFR is the solution – July Ndlovu
At the end of the financial year, Kumba's stockpiles were at maximum capacity, limiting its ability to build up production. "Over the next three years, we have reset our production outlook to reflect an expected lower Transnet rail performance, given the challenges faced this year," CEO Mpumi Zikalala said.
"This gives us confidence in our production guidance of between 35Mt and 37Mt, as we continue to draw down on the high stock build-up at the mines to supplement sales in line with our guidance of 37Mt to 39Mt."
Although it appears after another disruption on the RBCT line in May that TFR may not even achieve 50Mt of coal exports this year, Ndlovu is positive about the progress being made by the joint Minerals Council and TFR joint working group in coal.
"The facts are that when we started these channel optimisation forums the coal corridor was averaging about 14 trains a day. Just before the recent derailment incidents, we were up to 18 trains a day."
He said that improvement stemmed from addressing speed restrictions on a section of the railway. To lift them, maintenance was needed on that section.
"The turnaround time of trains from Mpumalanga to RBCT and back exceeded 100 hours. It is taking time to fix that section of line, but we have managed to remove some of those speed restrictions. As a result, the current train turnaround time now averages about 87 hours.
"So we are making progress, though we are not where we want or need to be. Of course, we want to see more progress.
"On crime, we were averaging 30 to 40 trains lost every week. When we started collaborating that came down to two to five trains a week. Crime is a broader issue, it doesn't only affect TFR. We see it all around our operations. We need to collaborate to address security and in the longer term it needs technology solutions. We also need a security cluster that works, so when criminals are arrested they are prosecuted and sentenced."
South32, the Australia-headquartered mining group with manganese mines in the Northern Cape, is reticent to open up on its logistics challenges in South Africa. It said it was part of the manganese industry forum "which seeks to support Transnet in its port expansion, at both development and construction phases of projects. We continue to monitor the ports' performance and work closely with Transnet leadership."
On crime, we were averaging 30 to 40 trains lost every week. When we started collaborating that came down to two to five trains a week – July Ndlovu
Although South32 admitted that "we continue to face ongoing logistics challenges in the rail system, and constraints at ports", it said only that "we are looking at innovative logistic solutions to mitigate any impacts on sales volumes". It would not elaborate further.
The reality for miners is that no matter the quality of their mineral deposits or their mines, if they can't sell it, they can't mine it. While diversified mining companies with global reach can reallocate capital elsewhere, firms with South African dependence are faced with either closing their doors or working in new jurisdictions.
Tharisa, for instance, has been developing PGM interests in Zimbabwe. South African coal producers like Exxaro Resources and Seriti Resources have been developing renewable energy investments. Thungela recently announced the acquisition of a majority stake in the Ensham coal mine in Australia for A$340m.
"International diversification is and is not a response to the TFR issue," Ndlovu said. "Diversification out of a single commodity, a single geography and a single infrastructure makes business sense. Even if TFR did not have problems, we would do this because it makes sense from a business perspective."
Seeds of hope
Havenga said the establishment of the crisis committee had given him some reason for optimism.
"The rail policy implementation, Operation Vulindlela and the Logistics Crisis committee … is a hopeful suite of solutions. But it is all hands on deck and hard work right now. Otherwise the consequences will be beyond tragic," he said.
"My recent observation of the problem is that possibly, there is a change of approach at Transnet to be more inclusive. I hope I'm correct. If not this might be a very hard and difficult road, with no time to really complete it before disaster strikes."
This article first appeared in The Mining Yearbook.