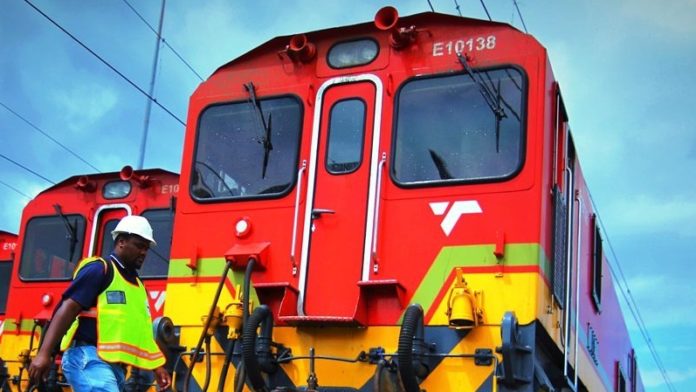 TRANSNET set out plans to return to profit in its 2024/25 financial year as part of a turnaround plan in which it confirmed the vertical separation of its biggest unit, Transnet Freight Rail (TFR) into operating and infrastructure management entities.
Critical to the turnaround, however, is improvements in TFR's total annual volumes and debt finance to fund it. In a presentation today led by Transnet chair Andile Sangqu, TFR requires R48.3bn in cash to achieve stretch targets of 170 million tons (Mt) and 193Mt in railed deliveries this year and in its 2024/25 financial year.
Were this to be achieved, Transnet would reduce its net debt to 2.3 times ebitda which would fall below current lender covenants compared to debt/ebitda of more than four times currently –dangerously exceeding lender covenants.
But the task was "daunting", said Transnet's acting group CEO Michelle Phillips. Even were Transnet to achieve its base case target of 154Mt in 2023/24, slightly above the 149.9Mt of last year, it would be a rare achievement as the group hasn't in a decade railed more in the second half of its year than the first – an indication of railed volumes to date.
Sangqu declined to specify how much his company required in terms of government funding but he said it was critical for its turnaround plan to exceed. However, some R15bn in maturing debt this year could be settled from existing resources.
At a more realistic railed volume of 154Mt this year, Transnet was still required to spend R17.9bn in capex and would end the year with a net loss of R4.34bn.
The targeted profit for next year is R724m but it requires this year's stretch target of 170Mt in railed volumes to become the base case for next year – highlighting the extent of the challenge.
Details of TFR's reorganisation – into TFR operating company (TFROC) and TFR Infrastructure Management (TFRIM) – would be articulated in a draft network statement in November. TFRIM's structuring would be completed this month in which rail access management and rail maintenance would be housed. The running of trains would remain therefore in TFROC.
Transnet did not respond to a media question as to whether the two companies would operate separate boards, and the extent of their independence from one another. But a mote of encouragement is that Transnet's turnaround doesn't include undelivered locomotives and spare parts from CRCC, the Chinese company with which the South African government is in dispute.
Public enterprises minister Pravin Gordhan recently visited China in an attempt to resolve the dispute, which relates to allegations of corruption perpetrated by the government of former South African president Jacob Zuma.
Phillips said opening TFR's rail network to third party private sector operators would be set down by April next year. Sangqu said the private sector investment would be "crowded in" in respect of TFRIM. Privatisation of the rail network was not on the cards.
Quite how the mining companies will earn concession usage of the bulk minerals lines is yet to be divulged. Earlier today, South32 CEO Graham Kerr said Transnet's problems would be easier to resolve than those at Eskom before adding, subject to funding.