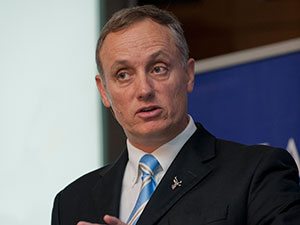 [miningmx.com] – IMPALA Platinum (Implats), which halted dividend pay-outs this year to preserve cash, wants to expand its Rustenburg operations despite a five-month strike earlier this year halting production.
While neighbouring Anglo American Platinum (Amplats) has been restructuring its operations, cutting jobs and putting some of its Rustenburg assets up for sale, Implats wants to grow its output to 850,000 ounces a year, up from 709,200 in 2013, CEO Terence Goodlace said.
"We are building this business, so we don't need less labour, we need more labour. But our view is that we take our current labour and look how we use those 30,000 people to build up production to 850,000 ounces,' he said.
"We are about establishing business for the long run; it is not about restructuring now. We must drive our productivity, and ultimately get our people to do more in the build-up to 850,000.'
It previously expected to reach the target at Rustenburg by 2018. Due to the strike, it produced only 411,000 ounces at Rustenburg in the year to end June, down 42% from 2013. Total production was 1.18 million ounces, a decline of 26%.
The group will review all its capital projects, which include the Impala 17 Shaft sinking and build-up of 20 shaft and 16 Shaft, as they have been "severely impacted' by the strike which ended in June, Goodlace said.
The strike did not only curtail activity, but also resulted in cash preservation measures adopted by Implats, which further hampered development work.
Capital expenditure was cut from R6.3bn in the year to end June 2013 to R4.4bn this year due to the strike. The outcome of the review will be presented in February with the next release of financial results.
Implats is focused on ensuring that it has sufficient cash to finance its ramp-up to pre-strike levels, which remains on track for October. The operations are currently at around 65% of planned production levels and Implats expects to lose around 140,000 ounces of production during the ramp-up phase, Goodlace said.
"A lot of the strike impact will only manifest itself in the 2015 financial year,' said spokesperson Johan Theron. Cost levels are expected to normalise by 2016.
Implats is busy implementing a range of measures to improve relationships with employees in an attempt to prevent long strikes in future, which it described as "unaffordable'.
These include a review of working conditions to build a "modern workplace', which involves considering new technologies and mechanisation where possible, ensuring remuneration levels and rewards are appropriate, and that employees are well-equipped to do their jobs.
"We need to get into a position where we can ensure the stability of the operations and productivity at the right levels,' Goodlace said. "You can't expect to win the hearts and minds of people if your working conditions are not right.'
Impala reported a loss of R129m for the year, down from a profit of R1.07bn in 2013. It had cash reserves of R4.3bn at the end of June, down 13% from a year earlier.