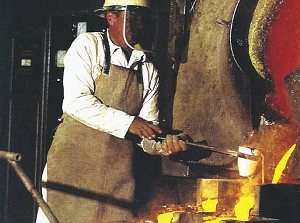 [miningmx.com] – PAN African Resources said it may cut its dividend to UK investors as low grades at its Evander operations hurt profits.
The gold miner said it will at least maintain its 2013 dividend of 13.14 cents a share in Rand terms, or a total of R240.3m.
However, due to the depreciation of the rand against the pound, maintaining the dividend would mean a cut for UK investors of 0.8033 pence a share in 2013 to 0.75 pence at Friday's exchange rate.
The final dividend will only be proposed on September 16 when it releases its annual results for the year to end June, and will take into account the group's current cash position and cash flow forecasts, the board said in a statement.
Pan African's share price was nearly 8% down on the JSE by midday on Friday, trading at R2.42.
In rand terms, headline earnings per share for the year are expected to be between 16% and 21% lower than the previous year, Pan African said.
Headline earnings exclude an exceptional gain in 2013 related to the acquisition of Evander and an impairment loss on disposals related to Phoenix Platinum and Auroch Minerals NL.
Pan African bought Evander for R1.5bn from Harmony in February last year, saying it would add around 100,000 ounces of gold production per year.
The current low grade mining cycle at Evander is expected to continue until February next year and will therefore also impact on earnings and results in the first half of the 2015 financial year, Pan African said.
The company has taken various measures to mitigate the impact of the low grades, including building a new tailings retreatment plant and increasing the surface tonnages processed by the Evander plant.
Construction of the Evander Tailing Retreatment Plant, with a production target of 10,000 ounces a year, is progressing well and production is expected to start in January 2015, Pan African said.
It managed to increase surface sources throughput in the Evander plant from 18,000 tons a month to about 30,000 tons a month, and is looking for additional sources to maintain the higher rates for the full 2015 financial year.
Vamping, or the mining of historical "leftovers' remaining after previous mining operations, at Evander No 7 Shaft has been expanded to include the 15 Level return airway mud accumulation project, adding additional ounces from July 2014 onwards, the company said.
Other measures include increasing the availability of conveyor belts in No 8 Shaft declines, improving mining flexibility by increasing development of 25 and 25A levels at the shaft, and investigating the possibility to extend the decline system to 26 Level, which would increase the Evander life of mine by three years to 17.