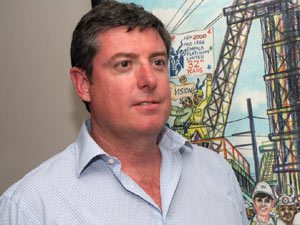 [miningmx.com] – JUNIOR miner CoAL of Africa will pay $10m to settle liabilities related to a take-or-pay agreement with two Grindrod subsidiaries until the end of December 2016.
CoAL, which announced on Tuesday that investors will inject up to $65.9m in the cash-strapped company, said the payment will be made in two tranches. It will pay $6m in October and $4m after the proposed equity raising has been completed, or alternatively pay the outstanding amount by year-end.
The liability relates to CoAL's take-or-pay agreement with Grindrod for a long term port allocation, which currently totals 2.25 million tonnes a year (mtpa), through the Matola terminal in Maputo.
While it has managed to mitigate its exposure by "sub-leasing' its capacity to third parties, the differential in rail costs between the Maputo and Richards Bay rail corridors meant it was unable to totally offset its 2.25mtpa, CoAL said.
The company currently has no cash-generating operations. Production at Vele, its main operating asset, was halted in October last year as work started to modify its plant. The delay in selling the loss-making Mooiplaats, which was placed on care and maintenance, has added to costs.
In terms of the agreement, CoAL will be able to export coal during the settlement period with no take or pay obligations, and have sufficient export capacity to meet scheduled production from the Vele colliery until the end of 2016.
The terms of the agreement beyond 2016 will also be renegotiated to ensure CoAL has sufficient capacity to export coal produced by Vele, which is expected to reach full production in 2016, and Makhado, where construction is expected to start in the second quarter of 2015 if all regulatory approvals are received, it said.
David Brown, CEO of CoAL, said the deal with Grindrod forms part of the company's turnaround strategy and is one of the material legacy issues, which include the sale of non-core assets, which needed to be resolved.
The company announced on Tuesday that it has entered into conditional agreements with Haohua Energy International, M&G Investment Management (IAM), Investec Asset Management and TMM Holdings to take up shares in two tranches at about 99c a share, double Friday's closing price. Haohua, M&G and IAM are existing shareholders in the company.
In addition to the Grindrod settlement, the money from the equity raising and the planned Mooiplaats sale will be used to for the final payment of $30m to Rio Tinto for tenements that will add to CoAL's Greater Soutpansberg Project, $25m to implement changes at the Vele plant, $6m to settle debt with Investec and $16m to fund its working capital for the next 18 months, CoAL said.
Shareholders will vote on the deal on September 25.