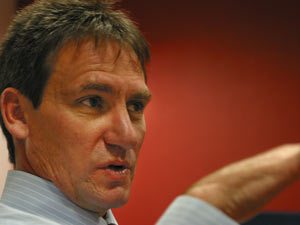 [miningmx.com] – JOB losses at Anglo American Platinum (Amplats) are inevitable unless a knight in shining armour appears on the scene, the firm's CEO, Chris Griffith said today.
Addressing members of the portfolio committee on mineral resources at parliament, Griffith admitted the company will most likely have to continue with its process of issuing Section 189 letters to employees, notifying them of intended retrenchments.
In January, Griffith provoked the ire of mines minister, Susan Shabangu, the ANC, and mineworkers' unions when it announced up to 14,000 jobs would be affected in the Rustenburg region – the same area which was at the centre of violent labour unrest in August and September last year – owing to a restructuring in which some 400,000 ounces/year of platinum productive capacity would be mothballed.
Fred Gona (ANC), chairperson of the portfolio committee, asked Griffith today about the status of Amplats' proposed closure of shafts and whether he was "confident' that a solution will be found.
"No, I'm not confident at all,' Griffiths said. "This is an industry that's been in crisis for a long time now.'
Griffith pointed out that 80% of Amplats' operations made losses last year. "If we hadn't have strikes, we would have had 30 to 40% [of total production capacity] loss-making," he said.
"But 50% of the entire platinum industry is making losses. We're facing a very difficult time: costs are going up and prices stay flat because of an oversupply of platinum," he said.
"This is not just about people who must work harder,' Griffiths added. "I'm not confident that we will come up with any clever ideas so that Amplats can become profitable again. Discussions have turned very aggressive, but that won't change the fundamentals.'
According to Griffiths, four shafts will be affected. "But remember, we're not just shutting down operations; we're reorganising to make our other businesses profitable,' he said.
Amplats gave detailed presentations on how it intends to reconfigure its Rustenburg operations, Griffiths said.
The company had a social plan in place to see to it that the affected employees will be redeployed as far as possible, although not necessarily be in the mining industry.
"There are other projects, such as the president housing plan in Rustenburg (for mine workers) that can help to offset the potential job losses,' Griffith said.