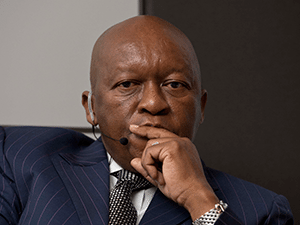 Royal Bafokeng Platinum (RBPlat) CEO, Steve Phiri, has joined the growing number who believe primary platinum production from South Africa will be cut, a development that would contribute towards widening the supply deficit.
"Well, if it is not planned, it is forced on us," said Phiri of production cuts. "Circumstances force us into that direction. You cannot just produce for the sake of volumes," he said.
"To say I'm a Number One producer, and I'm a Number Two producer, I'm producing two million ounces or more, that doesn't fly," he said. "You need to produce more quality and less volumes," he said in an interview.
"So the name of the game is quality ounces rather than the number of ounces that you produce. You will see the trend is already there, you will see unprofitable operations, unprofitable shafts, being closed down in favour of profitable ounces," he added.
RBPlat last year announced it would slow development of its Styldrift 1 platinum project which, once commissioned, would double the firm's production to about 600,000 ounces a year of platinum group metals (PGMs). The company produced about 310,000 ounces of PGMs in its 2015 financial year ended December 31.
Phiri said there had been a wide-ranging cutback on growth and replacement capital in the platinum sector whilst mines were becoming deeper and less efficient.
"UG2 has become more unprofitable and deep, too, and therefore the supply from the mines is reducing. And there are no big projects coming on stream now. Those that are there are late," he said.
Speaking at the launch of the PwC annual mining survey, Mine2015, Andries Rossouw, a partner in PwC's energy and mining industry assurance group, and who has co-authored Mine in the past, said production cuts were likely.
"If prices remain where they are, companies will be forced to cut production in the platinum sector," said Rossouw. "Consolidation will also have an effect. If you look at a map [of the Bushveld Complex], you can see where the synergies are and Sibanye Resources is making all the right noises about this," he said.
Speaking as part of a panel at the Junior Indaba, a conference being held at Johannesburg Country Club last week, Justin Froneman, CFO of Sibanye's platinum division, said platinum firms were better placed financially to exercise more discipline in production numbers.
"I can understand why miners kept the foot on the pedal to manage cost of supply, but it kept us back for longer than it should have. It's the one commodity where we haven't seen the kind of discipline that we should have seen," he told the conference.
However, there had been a reduction in capital spending and a strengthening in industry balance sheets generally which would help it manage supply which was certain to fall.
"Consolidation, as a matter of principle, is a good idea," said RBPlat's Phiri. Consolidation provided "… a bigger economy of scale that gives you the flexibility to close shafts," he said. "But it is not easy because the structures are so embellished so that at times it makes a very, complex exercise to consolidate the two businesses," he added.
Commenting in its latest quarterly update, the World Platinum Investment Council (WPIC) said the forecast platinum deficit for 2016 of 135,000 oz of platinum would increase to 455,000 oz. South African primary production totalled 4.1 million oz in 2015, the highest output number since 2013.
Platinum stockpiles, which are thought to be a major reason for sluggish platinum prices, were forecast to fall a hefty 19% to about two million ounces this year, the WPIC said.