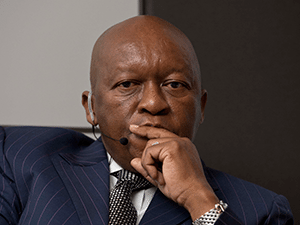 ROYAL Bafokeng Platinum (RBPlat) is to press ahead with mining at its R10.5bn Styldrift project in January after delaying its commissioning last year, saying improved market conditions left the group "cautiously optimistic".
During the first half of its financial year, RBPlat cut capital spending on the first phase of its Styldrift project – which will double company production to about 600,000 oz/year of platinum group metals (PGMs) – 58% to R418m compared to the first half of the the firm's 2015 financial year.
"We are confident we can begin stoping at Styldrift at the beginning of 2017," said Steve Phiri, CEO of RBPlat during a presentation of the group's figures today. "The platinum price is currently still $50 per ounce less than a year ago, but it's better than for most of 2015 and we are, therefore, cautiously optimistic," he said.
Asked if holding back development of Styldrift had been a wise thing to do in retrospect, Phiri said: "Absolutely, people would have said what an irresponsible management team" as PGM prices weakened in the months after the decision.
However, Phiri believed that timing the initial stoping from 2017 at Styldrift was to intended to coincide with an expected improvement in the PGM market. "You have to start the project to time with the market," he said.
The are questions, however, as to how RBPlat will finance the balance of the project. There's some R4bn to R5bn required to complete the first phase of Styldrift.
Martin Prinsloo, CFO of RBPlat, said the company was "confident enough now given where the basket [price of PGMs] is – and although this is not a full recovery – we are comfortable to go into this 'zone of progression'".
"We are working on this plan to finalise how to go through the zone and it's important is that we will get a robust funding plan that goes with it, even in the current environment," he said.
Speaking to Miningmx in an interview, Phiri said a decision on structuring debt for the balance of the project finance would be taken before the end of the year. "We are finalising the number on the debt side; we are confident that will be ready," he said.
Capital expenditure for RBPlat's financial year was expected to be about R1.3bn of which R1bn would be on the Styldrift project. The company had R958m in banking facilities and some R1bn in cash – an increase of about R100m compared to its cash balance as of January 1.
This was the result of an improved financial performance in the first half of the year in which headline share earnings came in at 77.8 cents which compares to a 60.4c/share loss in 2015.
Prinsloo said rand weakness and an improvement in the dollar price of platinum were the main reasons for the improvement while cash costs rose about 8.3% and cost of sales were some 7.9% higher.
WAGE PREMIUM
Analysts were critical of RBPlat's lack of cost control, especially the 14.5% hike in contractor salaries whilst enrolled employees cost 13.7% more year-on-year.
"A 14% cost increase is unsustainable," said Johann Steyn, an analyst for Citi. However, in a comment that is unlikely to endear him to his platinum industry colleagues, Phiri said it was necessary to "pay a premium" for labour stability.
"There's a premium for labour stability; gone are the days when you negotiate the number you want and you get a discount," said Phiri of employee salaries. "We've got to pay a premium for labour stability. It is all across the industry itself," he said.
Phiri added that the structure of the wage increases RBPlat had made were "… front-end loaded" and would "taper down … it is what has given us our [labour stability]," he said.
In 2014, RBPlat reached a five-year wage settlement with the National Union of Mineworkers which gave all unskilled and semi-skilled workers a 10% increase for three of the five years and 9% for two. Rock-drill operators received an extra 0.5% a year.
Wage negotiations for other platinum producers such as Lonmin, Impala Platinum and Anglo American Platinum have just kicked off however. Already, Lonmin has warned of potential production disruptions in the last quarter of its financial year as a result of wage talks, among other factors.