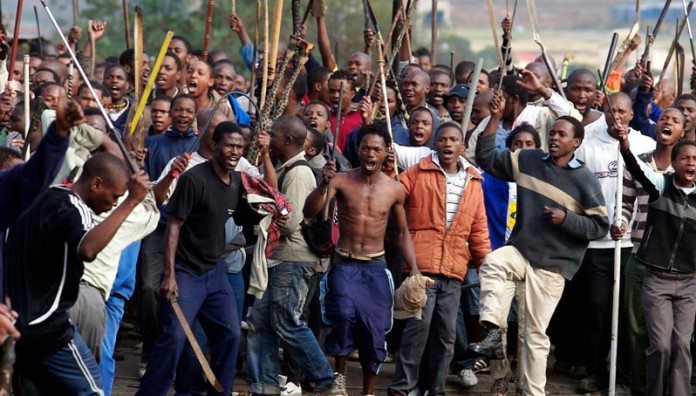 WAGE talks in the platinum sector look set to drag on into a third month after the National Union of Mineworkers (NUM) today announced a dispute with Anglo American Platinum (Amplats).
The NUM joins rival the Association of Mineworkers & Construction Union (AMCU) which earlier this month declared a deadlock with Amplats as well as with Impala Platinum (Implats) and Lonmin.
Wage talks officially opened on July 12 when AMCU met with representatives from Implats. The union was asking for a R12,500/month basic wage for entry level employees.
The NUM said it had declared a wage dispute after talks with Amplats deadlocked. It is demanding an increase of 14.5% against an offer of 6.75% from Amplats.
"The NUM view the offer by Anglo Platinum as an insult to thousands of helpless employees and the union has also observed the attitude by the company vehemently refusing to close the apartheid wage gap," the union said in a statement.
It said it remained "unshakeable" on its demands and criticised Amplats for alleged "dirty tactics". A deadlock and dispute are the first steps towards strike action.
AMCU led a five-and-a-half month strike in 2014 which cost the platinum sector about R20bn in lost wages. However, analysts believe there is less chance of a prolonged strike this time around.
Producer price inflation is about 6%.
Roger Baxter, CEO of the Chamber of Mines, said at a presentation today that cost increases over the last five years in the mining sector was out of hand.
"There has been a 13% increase in the cost of diesel, 11% in reinforcing steel, and 11% in wages versus PPI of 6% so our inflation basket has been increasing at a much quicker pace than our competitors," he said.
"We need more effective problem-solving between business, government and labour. We have a hole in the canoe and we're in the rapids. The waterfall that's ahead of us is a ratings downgrade," he added.
Asked if AMCU members had the appetite for a lengthy strike in the event of not agreeing a wage deal, Mathunjwa said in July that: "We will give them [platinum companies] a strike if they demand it".