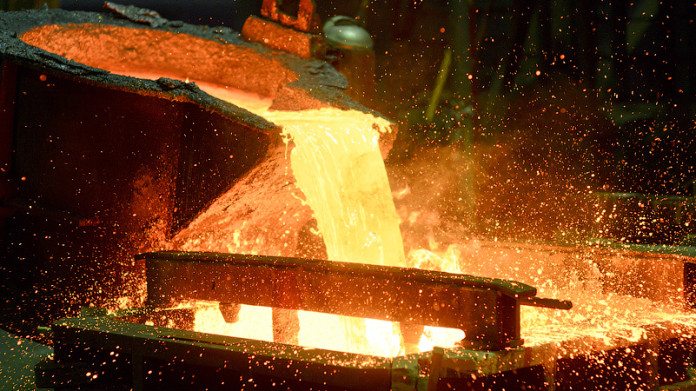 GOLDMAN Sachs has urged investors to sell their platinum shares which are starting to correct amid uninspiring fundamentals for the metal's demand.
"The stocks in our view have outrun fundamentals," the bank said in a report published on October 13. The improvement in shares prices this year was owing to the higher dollar price for platinum and improved sentiment to mining, it said.
It warned, however, that shares such as Lonmin, Anglo American Platinum (Amplats) and Impala Platinum (Implats) had "finally started to underperform" having lost 8% during a 3% decline in the metal price over the last few days.
"As the basket price continues to weaken, we expect stocks to underperform to be more in line with true fundamentals," Goldman Sachs analysts, Abhinandan Agarwal and Eugene King said in the report. They have been bearish on platinum for most of the year and have suggested in an uncommon view that South African supply would increase.
"We remain cautious on the sector with sell ratings on all PGM [platinum group metal] equities in our coverage," they said, adding that year-to-date average gains for platinum shares was 120% whilst the price of platinum was unchanged.
"Despite unchanged fundamentals, scant FCF [free cash flow] generation and minimal chance of dividend reinstatement, stocks are trading at an average 2017E EV/EBITDA [enterprise value to pretax earnings] of more than 10 times," the analysts said. This represented a 40% premium to the average mid-cycle multiple.
The warning comes despite the fact that some platinum companies have cut debt and costs in the last two years to 18 months after a period when they were "uninvestible", in the words of Amplats CEO, Chris Griffith.
Speaking at the Joburg Indaba last week, Griffith acknowledged that the sector had made some "classic mistakes" at a time when there was chronic oversupply of the metal.
"One thing you can say about the platinum industry is that we have not been investible for a long time. After demand had flatlined amid oversupply we were not investible," he said.
"We were making classic mistakes; not investing cash properly; not running the business properly, as well as ensuring that demand would fall. We became lazy as Anglo Platinum and so embarked on a tough journey with government with our restructuring," he said.
"We had to take tough decisions with labour, but that was the start of the journey to make our industry investible. We are now running same volume with 15,000 less people. If we had not done this industry would have been in deep shit," he said in an honest and blunt assessment.
Nonetheless, ratings agency, Global Credit Rating upgraded its assessment of Northam Platinum to positive from stable largely owing to its well funded balance sheet and growth plans.