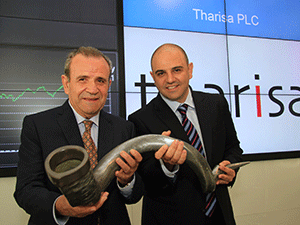 THARISA, a company that mines for chrome and platinum, was one of the best performing mining shares on the JSE last year largely owing to an incredible improvement in the price of chrome.
At one point, shares in the firm reached R28/share which was not too far from its opening listing price in 2014 of R35/share. At the time, Tharisa privately complained it wouldn't have chosen that year to list, but its backers were keen on an exit strategy and called time on it.
Thus the listing happened amid some difficult times for platinum producers – which Tharisa was principally considered to be at that time – with the result that the share price closed the year at a mere R6 a piece.
During the course of last year, however, it became apparent that critically low port inventories in China of about 700,000 tonnes of chrome – less than two weeks of total production – was unsustainable. In addition, a relaxation of credit in China unlocked fresh demand for stainless steel of which chrome is an ingredient.
The outcome was an increase in the price of chrome concentrate to a high of $380/t from $150/t. Since then, new production has been incentivised, including a portion of illegal mining, to plug the supply deficit. By the first quarter, China imported 3.8 million tonnes of chrome.
For Tharisa, the impact was something of a bumper year. Headline share earnings shot through the roof and the company all but extinguished its net debt. It was also given confidence to buy the mining fleet of its contractor which it hopes it can operate more efficiently.
The question is whether the party is over for Tharisa, especially since it also produces platinum group metals (PGM) of which the principle metal – platinum – is leading a depressing existence.
Phoevos Pouroulis, CEO of Tharisa, told Miningmx the challenge now for his company is prove it can be profitable "throughout the cycle" and not just when the price of chrome goes crazy.
Buying the mining fleet of MCC Contracts Proprietary – a transaction which totals $26.8m – will enable Tharisa to focus on quality mining compared to volume which is the metric on which contractors are incentivised, said Pouroulis.
There's also an effort to diversify the product base. At the moment, most of Tharisa's concentrate is supplied to the stainless steel market but a quarter of run of mine production is speciality ore which is sold to the chemicals markets for use in leather pigmentation. The foundry market is also being targeted.
In addition, the company is looking to grow organically. "We have a UG1 horizon that yields chrome and we are looking at the viability of setting a processing plant on top of that," he said.
More broadly, Tharisa also has its sights set on diversifying into other minerals. It's not committed to a specific commodity. "We are ambitious in becoming a global commodity player and we are looking at growth in South Africa," said Pouroulis. "There's no restriction on commodity except that it is a quick to market product that is low cost. Naturally, there are not an abundance of those around," he added.
In the meantime, investors will be keeping an eye on Tharisa's payout plans especially as the chrome market – although it has retreated somewhat and remains volatile – is so much improved.
Tharisa paid a maiden 1 US cent per share dividend in its 2016 financial year equal to some 10% of earnings, but Pouroulis said the group isn't wedded to this kind of ratio. "We decided to pay a dividend to show we could be a company of yield. We've had numerous discussions on the policy going forward and so we will reconsider it at year-end. It is an annual dividend so I definitely think there's room to improve," he said.