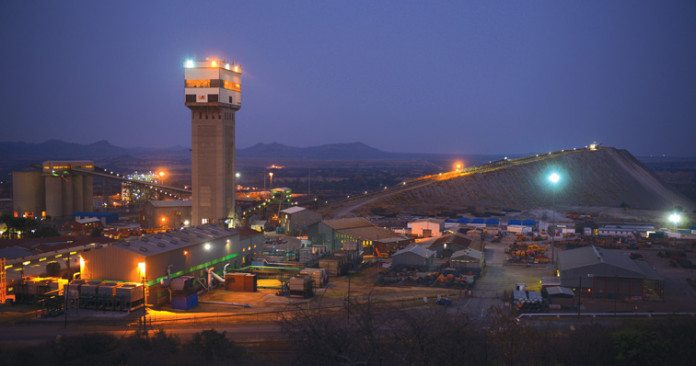 SHARES in Lonmin leapt 18% on the Johannesburg Stock Exchange after the platinum mining firm announced today its lenders had given it more leash in its efforts to stay alive in a margin-constricting platinum group metal (PGM) price environment.
On condition it leaves untouched $200m in undrawn debt, Lonmin's lenders will waive the next two debt covenant tests for September just passed and March 2018. This takes pressure off Lonmin which analysts feared may have to seek public and private funds again following three capital calls on shareholders since 2009 totaling $1.1bn.
The test criteria is that Lonmin's tangible net worth does not fall below $1.1bn. Its tangible net worth – broadly defined as the total of its tangible assets minus goodwill, intangible assets and total liabilities – was $1.4bn as of end-March 2017.
The other important condition to the waiver is that Lonmin press ahead with an operational review. The company reduced employment by about 6,860 in its 2016 financial year, but Lonmin CEO, Ben Magara, told Miningmx in September, that the company will continue to find ways of cutting costs. There are indications he is making headway.
Lonmin said today it had generated cash in the fourth quarter of its 2017 financial year taking its net cash position to $100m from $86m at the close of the third quarter which was, in turn, an advance on the $69m net cash position on the previous quarter. The firm's gross cash, which includes its bank facilities, at the close of the fiscal year ending September 30 was $250m, it said today.
Lonmin also assured lenders that it would cancel is revolving B2 facilities of $21m in order to secure the pre-emptive waiver of its covenant tests.
What Lonmin's gets in return – in addition to valuable breathing space – is support for its acquisition of Anglo American Platinum's (Amplats') 42.5% stake in the Pandora Joint Venture it shares with Amplats. The transaction is worth between R400m to R1bn. The variance in the consideration is owing to the transaction structure in which 20% of Pandora's free cash flow will be distributed over six years whilst also allowing Amplats the use and full operational control of Lonmin's Baobab concentrator for three years.
"The completion of the Pandora transaction unlocks significant synergies. It allows Lonmin to extend mining at its Saffy shaft without having to spend R2.6bn of capital expenditure, of which R1.6bn would have been required over the next four years," said Lonmin in an announcement today. "Lonmin expects to complete the acquisition before the announcement of its full-year results in November 2017, having met all the remaining administrative conditions precedent," it said.
Said Magara in September: "Those $2.6bn capex synergies definitely transfer to net present value as a saving. So on completion of this transaction there must be an uplift in the tangible net worth as well. Our aim since the rights issue has been to be at least cash neutral in this low-price environment and strong rand," he said. "We are essentially there and thereabouts".
"Lonmin will continue to regularly update its lending banks to ensure their consent for the implementation of initiatives identified by the Operational Review. The remaining revolving credit facilities will be available following the end of the Waiver Period subject to the banks being satisfied with the resulting business plan and Lonmin's ability to pass the TNW covenant tests at that time," it said.
"The group's liquidity is expected to be adequate for the Waiver Period, taking into account the company's past working capital requirements, particularly during the first quarter of the financial year, with the continued support of the lending banks and absent any material unforeseen adverse events," it said.