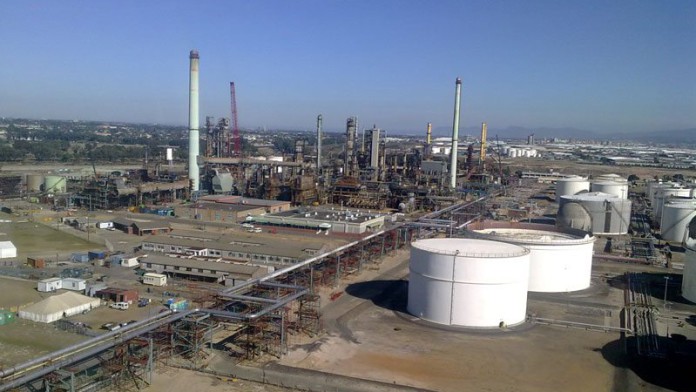 GLENCORE has made light of the regulatory and political crisis in South Africa's resources sector by offering nearly $1bn (R13.7bn) for control of US group Chevron's southern Africa downstream oil and lubricants business.
The eventual cheque Glencore may write for the assets, however, could well be below $500m if it introduces a partner to assist it with the transaction. The group also said it was actively managing its oil and petroleum portfolio.
The Swiss-headquartered group said in an announcement today it would spend $973m in cash buying a 75% stake in Chevron South Africa which has crude oil input capacity of some 100,000 barrels per day at its Cape Town refinery, as well as a trading team, and a separate lubricants manufacturing plant in Durban.
Chevron also has a retail-facing, forecourt business through the Caltex brand with more than 845 service stations in South Africa. In terms of synergies, the group could feasibly supply its sub-Saharan mines as far as the Democratic Republic of Congo from the South Africa facilities. There were also potential east-west oil trading opportunities, especially given the geographic positioning of Cape Town.
The assets, which generated some $138m (R1.9bn) in pre-tax profits for Chevron's 2016 financial year, will be bought from Off The Shelf Investments, an entity owned by the empowerment partners of Chevron South Africa.
Chevron was to sell its southern Africa business to Sinopec provided the empowerment grouping did not exercise its pre-emptive right. The opportunity Glencore has seized is to assist the empowerment partners, which include long-standing black entrepreneur Mashudu Romano (previously of African Harvest and African Legend Investments), exercise the pre-emptive right. The empowerment grouping also has Lithemba Investments as a shareholder which counts South Africa's former mines minister, and retired African National Congress MP, Ngoaka Ramalthodi, as a beneficiary.
"Glencore believes that the assets provide an attractive downstream opportunity for its oil business," the company said in an announcement earlier today. "The acquisition will include undertakings as to retention of the local management team and workforce," it said.
The transaction is another example of the group's confidence in certain segments of the resource asset class, and in southern Africa in particular, where investment has been thin on the group amid concerns over corruption, political in-fighting, and the poor regulatory and business environment.
For instance, amendments to the Minerals & Petroleum Resources Development Act (MPRDA) agreed between Government and the Chamber of Mines some 24 months ago are currently being scrutinised by the upper house of South Africa's parliament. A proposal to separate oil and petroleum from minerals has been ditched.
Introducing a partner
The proposed transaction brings Glencore's cash transactions just this week to more than $1.5bn after it announced on October 4 it would buy a further 27% stake in Volcan Compañia Minera for $531m, equal to $1.215 per share. This would take Glencore's ownership in the Peruvian miner to 44.84%, giving it a controlling stake. The business consists of four operating units that produce some 270,000 tonnes of zinc annually with silver by-product credits totaling 18 million ounces a year.
One quibble is that the recent spate of acquisitions could crimp Glencore's ability to continue paying dividends as it said it would.
Goldman Sachs said of the Chevron deal today that whilst it was not a particularly large transaction for Glencore from a balance sheet perspective, its acquisitions were "… starting to add up". Including the Volcan transaction, Glencore's net debt to earnings before interest, tax, depreciation and amortisation (Ebitda) would be 1.72x compared to the bank's estimate for 2017 of 1.6x Ebitda. "This in our view could make investors slightly cautious on the potential to ramp up dividends," it said.
However, Glencore said the it would "… manage its overall oil asset portfolio" such that net additional capital investment "… is limited to less than $500m over the next 12 months". This would suggest Glencore may offset the $973m investment in Chevron's southern Africa business by introducing a partner of its own. Charles Watenphul, spokesman for Glencore, said the company did not comment on market speculation.
Glencore said earlier this year it would sell 51% of its oil products storage facilities to Chinese conglomerate HNA for $775m.