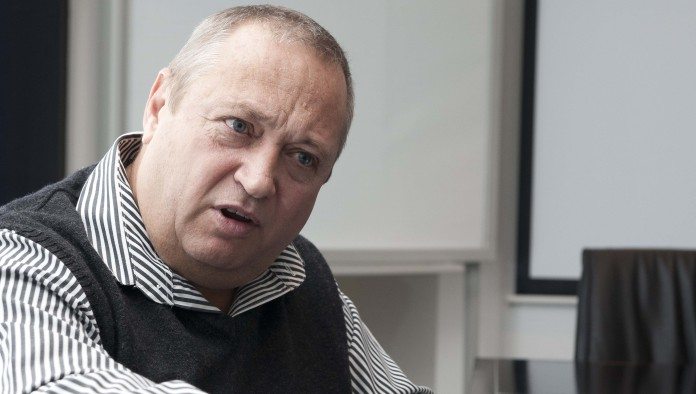 EVEN by Neal Froneman's standards, the last twelve months have been a frenetic, barn-storming type of a year. It started with the CEO of Sibanye-Stillwater suing the mines minister, Mosebenzi Zwane, and is likely to end with Froneman, who is also vice-president of the Chamber of Mines, facing Zwane in court again as the organisation has the High Court undertake a review of the controversial Mining Charter.
Between these book-ends, Froneman has overseen the breaktaking $2.2bn takeover of Stillwater Mining, a US platinum group metal (PGM) producer that has divided analysts and investors at various points since the it was unveiled in December. The general view of the transaction is that it has fundamentally re-pointed Sibanye-Stillwater. "Drivers for earnings and valuations are shifting rapidly in favour of PGMs and more quickly than we had previously thought," said Adrian Hammond, an analyst for Standard Bank Group Securities in one of the most recent reports on the company on November 2.
Perhaps the deal's biggest challenge was in August when the full weight of the finance required, 30 billion in rand terms, hit home. Sibanye first raised $2.65bn through a bridging facility for pay for Stillwater as it was a cash acquisition. It then refinanced this facility using equity via a $1bn rights issue on June 12 and then a $1bn bond issue a week later. Shares in the company that had reached their all time high in August 2016 at some R69.12/share, disintegrated in value, falling to R16.25 in September – only a whisker above the share price when Sibanye first listed in Johannesburg in 2013.
In paying for Stillwater, Sibanye conducted the largest equity raise in the EMEA region since Glencore bid for Xstrata, and the largest rights issue ever in South Africa to part fund a transaction. Given its scale, it forced Sibanye-Stillwater to announce a suspension of the dividend following its half-year results presentation on August 29, hence the apparent call to abandon-ship by investors, especially after the bond issue which Sibanye-Stillwater fought hard to explain was not the dilution that it appeared to be.
Yet, barely a month later, investors are piling back into the stock. Talk about fickle.
Van Eck Associates, the New York-based fund manager lifted its stake in Sibanye-Stillwater to 10.19%, the Public Investment Corporation has upped its position to 10.8%, while Investec Asset Management took its position back up beyond 5% – a move described by its fund manager Hanré Rossouw in an interview with Miningmx as motivated by the outlook for palladium, and the speedy commissioning – ahead of schedule by about three months – of Stillwater's 'Blitz' expansion which is rich in palladium, a sister metal to platinum.
Christopher Nicholson, an analyst for RMB Morgan Stanley, said restructuring affecting some 7,500 jobs at Sibanye-Stillwater's cash-leaking Cooke gold operations on the West Rand also helped attract investors back to the stock. "Restructuring at South African gold, synergies ahead of expectation at South African PGMs, and Blitz production growth coupled with a positive palladium outlook at Stillwater, all provdie operational upside," he said.
That was a September report, but in August, Standard Bank's Hammond had already forecast the likelihood that Froneman's ability to executive swift and transformative cost-savings following a new acquisition, spelled good news for the firm.
"Rustenburg demonstrated further operational improvements and the benefits of restructuring have become noticeable. We expect further improvements to costs in H2 [the second half of the financial year]," he said in the August report. These duly followed. Commenting on the takeover of Anglo American Platinum's Rustenburg Mines, which had been first announced in 2016, Sibanye-Stillwater said operating cost savings would top R1bn, R200m better than the original target, and had been delivered two years ahead of schedule – enough to save some 300,000 ounces in PGM production (and 15,000 jobs) that had been previously earmarked for potential restructuring.
Said Hammond in August: "We believe the company is close to shifting a large portion of PGM production into profitability which could have a significant impact to valuations at spot prices". And so it materialised.
NATIONAL MINING CHAMPION?
THERE is a danger those platinum ounces and jobs could be endangered again were the rand basket price for PGMs to move significantly lower, but Froneman's belief is that output from Rustenburg Mines has been permanently saved; insofar as it's possible to talk about permanency in the mining sector.
"There's a very good message that comes out of this and it's two things," said Froneman in an interview with Miningmx. "The one is that consolidation is very necessary, especially in an industry where there are mature operations. The second is the Competition Commision which should get some credit."
This is a reference to a decision by the commission to approve the takeover of Rustenburg Mines by Sibanye-Stillwater knowing that the firm's immediate intention was to release about 570 jobs at the top of the deal. "Business needs the support of the Competition Commission," said Froneman of the commission's willingness to allow the restructuring.
Still, not everyone was applauding Sibanye-Stillwater for saving jobs, especially those not aligned with the national cause. Goldman Sachs, for instance, believed maintaining some 300,000 PGM oz is negative for the platinum market which is not exactly over-supplied, but has significant above surface inventories, and sluggish industrial demand.
"I know there's a negative aspect to that and that is the platinum industry needs to take ounces out of the supply side," said Froneman. "But that must be unprofitable ounces. These are not unprofitable ounces. We would have no hesitation – were they to remain unprofitable – to close it," he said.
This has been demonstrated at the Cooke shafts. It has led some to wonder if the reduction in operations at the gold mines, coupled with the Stillwater deal, means Sibanye-Stillwater doesn't see further growth in South Africa. Remember, it once styled itself as South Africa's aspiring national mining champion. This view was compounded when Froneman said in April the company would shelve new projects following the latest bout of anti-business rhetoric from the South African government.
"To preserve cash, we've cut back on some of our capital projects," said Froneman at the time. "A secondary issue is that we don't know what the cost of doing business is here or if there will be business to be done here. Until this country gets its house in order, I don't see any company being able to make further investments."
Froneman doesn't think there's an anti-South African investment narrative in the Stillwater acquisition; in fact, his view is that Sibanye-Stillwater's national mining champion ambitions – born of former mines minister Ngoako Ramatlhodi's view that a company was needed in South Africa with an interest in buying up assets no longer wanted by the mining majors – are very much the strategy for the future.
"What is clear to me is we've established ourselves as a South African champion and we could do more of that, and we will do more of it in due course. But if we really want to be a real South African champion, we have to be globally competitive on the international arena as well," he said.
The view is that by internationalising the business, Sibanye-Stillwater is able to lessen the discount on its shares which is largely driven by the country's uncertain regulatory and political environment. "Our focus for growth is going to be international so that we can compete on an equal basis with internationally listed companies," he said.
"That doesn't mean that we're leaving South Africa; it doesn't mean that at all. There are still some things to be done here, but what we can't do is allocate capital where there are long-term paybacks and we're not sure of the cost of doing business here. We don't know what's going to be regulated."
If we really want to be a real South African champion, we have to be globally competitive on the international arena as well – Froneman
Froneman was re-elected vice president of the Chamber of Mines at the organisation's annual general meeting earlier this year. His approach to issues (controversially, Froneman suspended female miners in July who would not comply with strip searches as the firm attempted to stamp out rampant illegal mining) is partly behind the Chamber's more stridently outspoken relationship with the South African government.
And there's been ample opportunity to become more combative with the government following the Department of Mineral Resources's (DMR's) redrafted Mining Charter on June 15 which contained resolutions that had not been discussed with the mining industry before, and that are though to be unconstitutional. One particular proposal in the Mining Charter that has outraged the industry is that empowerment partners should be paid dividends before other shareholders, and even before lenders are repaid!
Froneman expected there would be uncertainty in the South African mining industry from a regulatory perspective for two years or more as the Chamber fights the DMR's Mining Charter in the courts, beginning with a High Court review on December 13 and 14 this year. "You can't defend these sorts of investments to shareholders and use public money speculatively. That is just not on," he said.
GROWTH
ACCORDING to an analyst who asked not to be quoted, it's the platinum division that will drive Sibanye's earnings in the foreseeable future; what's more, the PGMs were accumulated at a cyclical low.
When Sibanye was created, it consisted of the demerger of Gold Fields' South African assets. The mines were unloved, with depleting reserves, so it was contarion of Froneman to have breathed fresh life back into them. There's a similar counter-cyclicality behind the move into PGMs. Froneman thinks it is a question of calling the market correctly.
It became almost common wisdom that everyone was working towards paying dividends. We've moved into a new phase where the market was not quite there, and that is growth – Froneman
Said the analyst: "Delivery on the integration of its PGMs division, built at a cyclical low, is set to drive a step change in operational performance and deleveraging of the balance sheet near term. While contribution from the PGMs division is constrained during 2017, Sibanye-Stillwater's business will be dominated in the next five years by its gearing to a rising PGM basket price and quality volume growth from Blitz".
Said Froneman: "We clearly called the market and, in fact, we structured Rustenburg on the basis of a three-year depressed platinum price. The approach to Stillwater was initially driven by getting more exposure to palladium because of the view we had that palladium was in a deficit. But then we started understanding the assets much better.
"The fact is that Blitz was not in the market from a valuation point of view because these guys [the Stillwater team] did it as an extension of their business. We realised that we could actually make a good offer, acquire the assets and still show value accretion which is the vision". "There's now a much better understanding of the Stillwater business and the Blitz project among South African analysts," said James Wellsted, head of corporate affairs for the firm. Blitz will double Stillwater's PGM production to 600,000 oz/year.
The expectation is that with Blitz coming on line three months ahead of schedule during a period when the price of palladium has exceeded that of platinum – a historic rarety – Sibanye-Stillwater will be able to take net debt down to one times pre-tax earnings in about a year to 18 months – a level at which the company can comfortably resume dividend payments and/or fund more growth. Froneman does not think the company broke a promise by stopping the dividend.
His view is that Sibanye-Stillwater was in negative earnings territory and therefore couldn't make the dividend in terms of its 35% of earnings payout policy. It did, however, offer a 'capitalisation issue' which Froneman said looked and talked like a dividend. Regulations forbid the company from calling it such, however.
Froneman said Sibanye-Stillwater was at the vanguard of the next phase of its mining cycle in which production expansion is added in such a way that yield is not cut off, at least, not permanently. Production growth is still something of a swear word in the mining sector, given the huge debt and lack of return of mining stocks during the hyper-expansion of the super-cycle, but in certain classes of commodities there is under-development. Growth in production will have to come sooner or later in selected metals and minerals.
"We have surprised the market from 2013 when everyone stopped paying dividends because they were busy de-leveraging and so on. It then became almost common wisdom that everyone was working towards paying dividends. We've moved into a new phase where the market was not quite there, and that is growth," said Froneman.