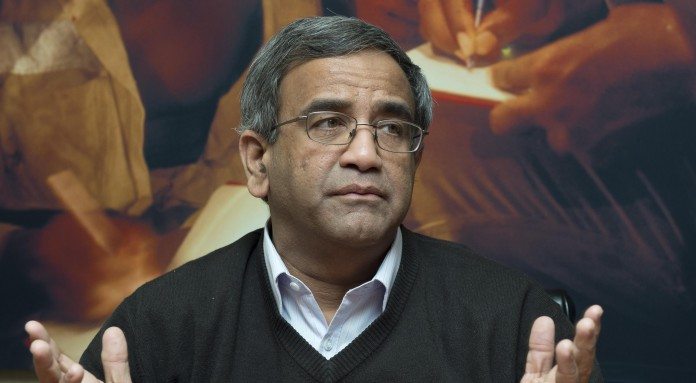 AngloGold Ashanti generated $88m in free cash flow for the September quarter with gold production up 11% year-on-year and the group is on track to meet its full-year guidance on production, costs and capital expenditure.
That's the assessment from CEO Srinivasan (Venkat)  Venkatakrishnan who commented, "every metric is going in the right direction with a strong turnaround across all the operations and, in particular, the South African operations.  We are expecting a good finish to the year, in particular from Australia and the Kibali mine in the Democratic Republic of Congo."
AngloGold's guidance for financial 2017 is production of between 3.6m and 3.75m oz of gold at an all-in sustaining cost (AISC) of between $1,050 /oz and $1,100/oz.
Turning to the restructuring of AngloGold's South African operations Venkat said gold production sourced from the country –  following the sale of Moab to Harmony Gold  and Kopanang to Heaven -Sent SA Sunshine Investment –  would drop to 13% of total group production.
"That's the same as Brazil or Ghana or Tanzania, "  he pointed out.
AngloGold's only remaining operating gold mine in SA after the latest restructuring will be the Mponeng/Tau Tona  complex  which Venkat said today was viewed as a core asset and was not for sale.
AngloGold is extending the life of Mponeng through the development of a decline shaft beneath the current secondary shaft.  Completion of this Phase One expansion project is expected during the second quarter of 2018.
A Phase Two expansion project to deepen the secondary shaft to further increase life-of-mine is being evaluated.
According to the third quarter reported published this morning, "the feasibility study for the Mponeng life-of-mine project has recommenced after being interrupted in  May 2017.  The interruption was planned in order to complete a geotechnical study to determine the most appropriate position of the infrastructure relative to tolerable levels of rocks stress."
Turning to the mothballed Obuasi mine in Ghana,  Venkat said that discussions with the Ghanaian government over the re-opening of the mine were continuing but had slowed down somewhat since the upbeat assessment delivered in August when AngloGold reported its interim results.
He said that talks were "advanced and constructive"  but indicated they had slowed down over the issue of getting the "necessary regulatory and fiscal certainty  required for the operation"  in place.
"You have to be patient in terms of negotiations with government, " he commented.
In August, Graham Ehm – AngloGold's  group planning and technical executive –  said it would take about a year to re-establish operations at Obuasi with gold production planned to start at a rate of 200,000oz annually from the second year.
Ehm estimated the new Obuasi life-of-mine at more than 20 years during which it would produce more than 8m oz of gold and commented, "we anticipate having everything in place before the end of year."