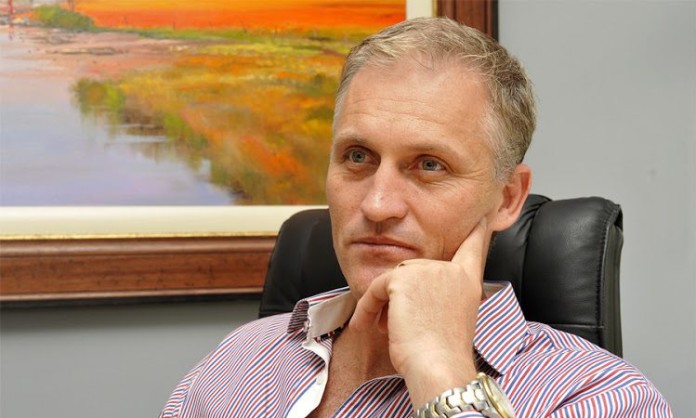 JUBILEE Metals Group raised £4.5m in a share placing today which CEO, Leon Coetzer, declared was proof the firm's project track-record and strategy to diversify into retreatment of other metals' tailings was gaining traction among investors.
"This institutional support is a mixture of fund manager and family wealth which encourages me immensely," he said in an announcement to the Johannesburg Stock Exchange where the company is listed. Shares in Jubilee Metals also trade on London's Alternative Investment Market.
"I believe this initial institutional entry has the potential to be followed by others and it is my intention in 2018 to provide the platform of confidence which will attract further investment," he added. Shares in the company gained nearly 5% by midday in Johannesburg, but the stock has been under pressure over the last 12 months during which time it is down about 18.5%.
Some 125 million Jubilee Metals shares were placed with Miton Group, a London-listed asset management company, and "an international wealth group" which subscribed to Jubilee's placement through Veddis – also London listed, and founded by entrepreneur and philanthropist, Vikrant Bhargava.
In terms of the placement, the shares were issued at a price of 3.6 pence per share (against a current price of about 3.5p/share) which converts to R75.8m at the current exchange rate. The placing includes 62,5 million warrants in Jubilee Metals price at 6.12p/share – a generous premium of 70% and valid for five years.
Jubilee Metals Group was initially a primary platinum project developer, previously known as Jubilee Platinum. It still has the rights to Tjate, a project that ran into funding difficulties amid a decline in the platinum price. However, it has since diversified into platinum and chrome re-treatment activities through the development of tailings project, Hernic. It also has retreatment nickel retreatment facilities at the Leinster nickel tailings property in western Australia and is drilling for iron ore in Madagascar.
Jubilee Metals also has the option of farming in to the Kabwe project in Zambia in joint venture with the BMR Group which, if Jubilee proceeds with the investment, will see it add zinc, lead and vanadium to its stable.
Said Coetzer: "The investment from such eminent financial institutions is in recognition of Jubilee's success in the recovery of metals from surface materials and tailings and validates the company's strategy to establish itself as a leading global processor of such metals".