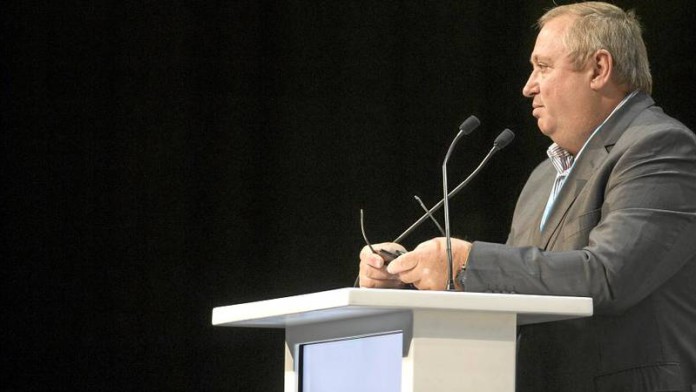 NEAL Froneman, CEO of Sibanye-Stillwater, promised analysts they would be "pleasantly surprised" by a proposed streaming deal the firm was negotiating which would then stage "a turnaround" in its flagging share price.
Answering questions in a platinum group metals (PGMs) 'investor day', Froneman also defended the group's strategy, saying it had not altered in the last 12 months.
Sibanye-Stillwater said in its interim results, published on May 31, it was considering raising up to $600m in additional funds and working capital in an effort to deleverage its balance sheet which it acknowledged was one of the reasons the firm's share price had under-performed this year.
The proposals to raise additional liquidity include a $500m streaming arrangement in which it will pre-sell precious metals. In addition, it would finance inventory of metal produced at its recycling operations at its Stillwater PGM operations in the US – a move that could release $100m in working capital, currently locked up.
"The market is particularly concerned about our high leverage numbers," said Froneman today. "That is the issue, but there will be a significant turnaround in the share price once we implement the streaming deal," he said. "It has been disappointing for us, but we are not in this for the next nine months. We have taken long-term strategic decisions."
Analysts quizzed Froneman on whether the company was sustainable in the long-term and whether strategy 'would change again'. Once it had paid off the cost of buying the Kloof, Driefontein and Beatrix mines from Gold Fields in terms of the asset demerger from that firm, Sibanye-Stillwater was largely debt-free. It established a track-record of paying large dividends and marketed itself as a high-yield play in a significantly over-leveraged market.
But the decision to acquire PGM assets, beginning with Aquarius Platinum in 2015 and followed by Rustenburg Platinum from Anglo American Platinum and then Stillwater Mining in 2016, pushed the group into a net debt to EBITDA ratio of about 2.4x. The company also issued $1bn worth in shares, although Froneman said today he'd have preferred to raise $1.2bn in shares but for certain shareholders that could not follow their rights.
"Once we have implemented the streaming deal and the pipeline financing our net debt to EBITDA would fall to 1.5x," he said. "I can't see why we would issue shares," he added responding to another market concern that Sibanye-Stillwater would attempt to equity finance its debt notwithstanding a 42% share price decline this year. Shares in Sibanye-Stillwater are currently trading at R8.98/share, up about 2.5% on the day.
"We have done a lot of analysis and we know the cost of capital using various structures. Steams can be very bespoke. Yes, normally they are used for companies in distress or highly risky start-ups. I would suggest that companies like Glenore used it very successfully in a similar situation [to Sibanye-Stillwater's relatively high debt pile].
"Also the by-products that we can stream currently get us no value from the market," he said. "We've been through the mill in terms of equity, but once we can announce terms of the stream, we will alleviate your concerns. We have had a number of offers, and you will be pleasantly surprised with the outcome," he said.
DIVIDENDS
Sibanye-Stillwater could have continued to pay dividends for a short period with the gold assets, but it decided moving into PGMs would provide sustainable returns for shareholders over a longer period. "When we were just a gold company, those were the projects we had and that's what we had to do. But we became ex-growth," he said.
"We could have had a dividend for another three to four years, but we have this strategy which is not a new one, and we will get back into dividends. Sustainability of dividends is much better that being just a gold business which is ring-fenced in South Africa." The purchase of Stillwater Mining cost $2.2bn.
One of the other concerns affecting Sibanye-Stillwater's share price was how an all-share proposal to buy Lonmin would develop. Froneman said he was hopeful of concluding the deal this year following Competition Commission approval, possibly in the third quarter. Investor pessimism about Lonmin's ability to remain net cash was unwarranted. "I don't believe we will be taking on any Lonmin debt."
Froneman was also sceptical of 'Plan B' in the event the proposal with Lonmin did not materialise, which was to allow it to fold and thereafter pick up selected assets. "12,000 jobs are going to go regardless in terms of Lonmin's plan, but we can save 18,000 to 20,000 people and that is in the national interest," he said.
Froneman declined to detail particular 'rights' the company had over Lonmin assets should the share purchase agreement fail.