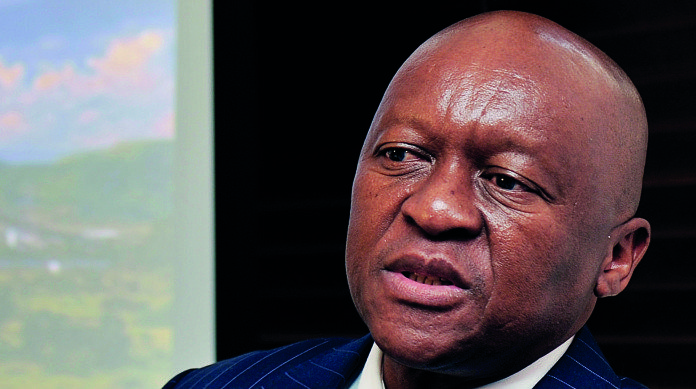 ROYAL Bafokeng Platinum (RBPlat) was confident it would hit the straps with its R11.6bn Styldrift i expansion when it reached commercial production in the fourth quarter.
"A lot of projects don't come on line as planned, but I like to think that Styldrift is different," said Neil Carr, head of operations for RBPlat. "We have de-risked the project and we are confident about it," he said.
Carr was responding to questions at the firm's interim results presentation today in which the firm reported a first half six cents per share loss which compared with a 15.3 cents/share loss in the previous interim period. The numbers were typified by strong production, and improved margin as the company cut back on unprofitable mining at its operating mine, Bafokeng Rasimone Platinum Mine (BRPM).
RBPlat has targeted production of metals in concentrate (4E) of 328,000 ounces in the current financial year and platinum in concentrate of 212,000 oz, an increase year-on-year of 7.9% and 8.2% respectively. When fully complete, the Styldrift expansion is planned to double the group's 4E metal in concentrate production to 600,000 oz/year.
RBPlat said it had now spent R9.38bn on the project which would finally come in at a total capex of R11.4bn to R11.6bn. Capex to end 2017 was R8.46bn.
The last six months have been a busy for RBPlat. In addition to nearly finishing Styldrift, it completed the acquisition of the Maseve concentrator plant and certain surface assets from Platinum Group Metals for $58m. On July 5, it announced it would take full control of BRPM in an agreement with its joint venture partner, Anglo American Platinum (Amplats), buying its 33% stake for R1.86bn financed through the issue of about 9.79 million RBPlat shares.
It had earlier decided not to proceed with a R944m right issue planned for Maseve mine, saying its capital commitments were more pressing and that the transaction would be financed from debt. Outgoing RBPlat CFO, Martin Prinsloo, said the company would extend its credit facilities – mostly through an "upscale" of its revolving credit facility and five- to seven-year term debt to R3bn from R2bn currently.
The impact of its corporate activities was felt on the cash line with cash and equivalents falling to R728m from R1.67bn previously.
HAPPY DAYS
RBPlat CEO, Steve Phiri, said the firm's restructuring was now behind it, although he didn't want to under-estimate the social impacts of job losses, especially in South Africa's beleaguered platinum sector. "We are always concerned about it. We are not an island.
"When people are losing their jobs it is a big problem. But we don't have any plans for any more retrenchments. I'd never say never, but there's no Section 189 (Labour Relations Act provision that allows for consultations ahead of restructuring) planned. So we are not worried, but we are not complacent either," he said.
South Africa's platinum sector is reeling after Impala Platinum (Implats) announced last week that it would cut up to 30% of platinum production, a move that would affect about 13,000 jobs, although not all of these would result in retrenchments. This follows plans by Lonmin to cut 12,000 jobs over the next four years.
Phiri also said he was happier now that Mosebenzi Zwane had been replaced by Gwede Mantashe as the country's mines minister.
"There is a lot of hope," he said. "I have the utmost hope and expectation that Gwede Mantashe will change the sentiment of the past. What he says is what he means. He may be wrong, but he is genuine," said Phiri.
He was commenting about Mantashe's redraft of the Mining Charter which has attracted praise and criticism. Whilst providing certainty, the new draft introduces provisions including a trickle dividend and requirement for a free carry in respect of new mining licence applications that the sector believes will discourage new investment in mining.
Phiri was none too pleased with Zwane's performance as mine minister. Commenting at RBPlat's full year numbers in March, Phiri said: "I am not ashamed to say that he over-stayed his welcome – if he had any. I am not unhappy to see his back".