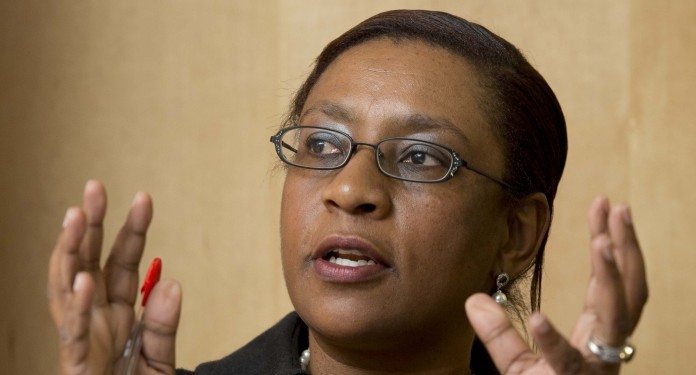 AS anticipated by some analysts ferrochrome producer, Merafe Resources, has declared a record interim dividend for the six months to end-June totalling R200m (2017: R75m) which follows a record final dividend payout of R226m for the year to end-December.
The higher dividends follow on from what Merafe CEO, Zanele Matlala, described as a "remarkable" reduction in the group's debt since 2015 which has been matched by a rising percentage of group profits paid out in dividends. Merafe moved from a net debt position of more than R1.1bn in the first half of 2015 to hold net cash of R600m in the second half of 2017 from which net cash dropped to R331m at end-June.
Over this period the dividend pay-out as a percentage of profit has risen from just 16% in 2015 to 47% for the latest set of results.
Merafe has also published a set of dividend guidelines covering future distributions. These include provisions that "at least" 30% of headline earnings will be paid out and excess cash above R50m at the Merafe level will be distributed.
Merafe gets the bulk of its revenues from its 20.5% stake in the Glencore-Merafe chrome venture which is one of the world's largest ferrochrome producers with total installed capacity of 2.3 million tonnes (Mt) a year.
Matlala said that Merafe's portion of the cash in the venture of between R100m and R200m would be retained to fund working capital and sustaining capital expenditure.
The record interim has been declared despite a 12.9% drop in headline earnings to 16.9c a share (19.4c a share).
Turning to the market, Matlala said global stainless steel production rose 10% in the first half of 2018 and commented that "… for the first time in years, Chinese output was not the leading factor behind this rise".
Instead, the growth came mainly from Indonesia – which pushed up its output 13% period on period – while European and North American stainless steel production increased by 2.5% and 1% respectively. Chinese stainless steel production rose by 7% period-on-period.
Matlala added: "… due to strong growth in Indonesia, where stainless steel production is almost entirely dependent on primary chrome units, global demand for ferrochrome increased by 11% period-on-period.
"Growth in ferrochrome supply has not matched the rise in demand so far this year with global ferrochrome production rising by 8% period-on-period. Chinese ferrochrome smelters made the largest contribution to this increase, their output rose by more than 11% to about 2.4Mt. More modest supply increases took place in South Africa and India".
Matlala said total 2018 stainless steel production was currently forecast to be 50.8Mt which would be 4.9% up on 2017 levels.
She commented: "Price and exchange rate volatility are expected to continue, especially given uncertainties driven by trade wars and the global economic environment".