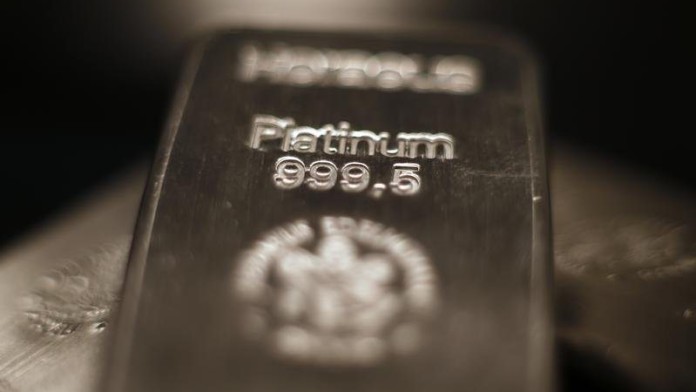 THERE would be a demand surplus in platinum of 505,000 ounces in 2018 as consumption of the metal in jewellery failed to fire and despite slightly lower overall supply.
The surplus is an increase on the 2017 number of 285,000 oz, according to data provided by the World Platinum Investment Council (WPIC) in a third quarter report.
The WPIC guided to a narrowing in the surplus next year, however, to 455,000 oz owing to an improvement in jewellery consumption. It also pointed to investment themes that were likely to emerge 2019 such as a return to exchange traded funds (ETFs).
Total demand would be 7.47 million oz in 2018 rising to 1.89 million oz next year. In terms of supply, some 7.98 million oz would be supplied to the market of which 1.9 million oz was recycled material. Supply would be 8.1 million oz in 2019.
The WPIC also said that the future demand potential for platinum in fuel cell technology would begin to make it on to the agenda of investors in 2019. So to would the question of whether the time was right for automakers to switch back to platinum in autocatalyst fabrication given the meteoric rise in the palladium price.
The platinum price has been depressed through much of 2018. It is currently about $100/oz weaker at some $850/oz than at the start of the year, but higher than the $770/oz low it hit in September.
"Looking into 2019, the 35,000 oz decline in automotive demand is more than offset by growth of 215,000 oz in other demand segments," said Paul Wilson, CEO of WPIC which is funded by the likes of Anglo American Platinum and Impala Platinum (Implats) in order to generate new investment demand for platinum.
Wilson said platinum in jewellery would return to annual growth next year – the first since 2014, while industrial demand remains strong. A turnaround in ETF investment is also expected, especially as value investors may consider platinum in light of its widening price discount to palladium and rhodium.
The largest single segment for platinum demand is the automarket where it and its sister metals, palladium and rhodium, are used in the manufacture of autocatalysts. Fitted to cars, they remove noxious fumes from the atmosphere. However, the advent of electric battery vehicles and the use of palladium and rhodium in traditional internal combustion engine vehicles has lead to a slump in the platinum price.
Wilson said that the improvement in the palladium and rhodium price meant that, over time, it would be cheaper to for auto manufacturers to invest in platinum again, but there was little visibility as to when they would make the switch. Wilson said that "… economic and supply concerns argue strongly for automakers to consider a partial switch from palladium to platinum".
Director of research at the WPIC, Trevor Raymond, said in an interview that the spike in the rhodium price was interesting because there was a suggestion it was being used as a substitute to palladium in autocatalysis. This suggested traces of stress in the availability of palladium, the price of which has increased to $1,150/oz today from $700/oz at the beginning of 2017. Rhodium is currently trading at double its $1,000/oz of a year ago.
From a supply perspective, South African platinum production would rise slightly in 2018 to about 4.4 million oz from 4.38 million oz in 2017, but flatten in 2019 and 2020. The WPIC said South African production would see "less disruptions" next year compared to the closure of production at Implats and merger between Lonmin and Sibanye-Stillwater.