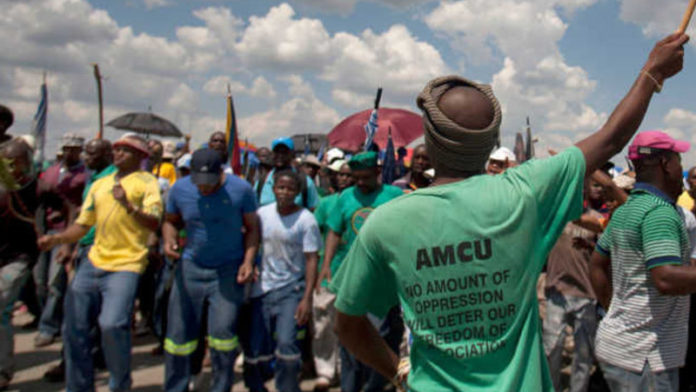 A STRIKE at the premises of Impala Platinum's (Implats') Rustenburg shafts would be "devastating" and "heart-breaking", said the firm's CEO, Nico Muller.
 
Muller was responding yesterday to questions regarding the environment for labour relations in the platinum sector in the context of a secondary strike planned by the Association of Mineworkers & Construction Union (AMCU).
 
The Labour Court of South Africa suspended the strike late on February 27, which was to have started on February 28, pending a decision on whether to accept or reject applications to interdict the industrial action by mining companies, including Implats, AngloGold Ashanti and Anglo American Platinum.
 
The strike was called by AMCU in an effort to put additional pressure on Sibanye-Stillwater which refused to concede to AMCU gold industry wage demands. AMCU has been on strike at Sibanye-Stillwater's gold mines since November.
 
"It would be devastating in Rustenburg particularly," said Muller. "It would be heart-breaking because Rustenburg has been largest contributor to revenue," he added referring to the contribution made by these shafts in Implats' interim results. "So far the environment is stable and calm, but we will see how the situation plays out," said Muller.
 
Implats turned in a strong set of financial and operating results significantly lowering net debt and producing positive share earnings a year after posting losses. Shares in the company are more than 50% higher since the beginning of the year.
 
All of Implats' shafts were free cash positive including Rustenburg's, some of which have been earmarked for closure.
 
South Africa's platinum companies head into wage negotiations later this year with unions, including AMCU. Asked for the company's view on how these negotiations might proceed, especially considering the current climate, Lee-Ann Samuel, group executive: people at Implats, said: "We have a very good understand of what their demands will be.
 
"We will be proactive and take the lead, starting around June. We are hoping for a very positive outcome. Given the other elements at play with regard to the review at Rustenburg, we have focused on intensive engagements on all levels with AMCU".
 
Implats said in August 2017 that it would cut production by 230,000 ounces a year and reduce employee numbers by 13,000 lowering the number of operating shafts to six from 11. The process would take two years to complete.
 
Implats said on February 28 that 1,500 jobs had been cut from Rustenburg shafts of which only about 110 were forced retrenchments. Muller said the process of restructuring would continue, although the lift in average platinum group metal pricing could change the timing of certain initiatives. "We may alter the timing on restructuring or commercial options on closure.
"We have categorically stated that we don't want to support loss-making activities and it is not our intention to change strategic direction owing to short term price movements."
"Having said that, we have bullish outlook and we think platinum will be dragged up by rhodium and palladium. Rustenburg has significantly contributed to net cash," said Muller.